Washington, D.C. — The Honorable Circuit Judges Kathleen O'Malley, Jimmie V. Reyna and William C. Bryson of the U.S. Court of Appeals for the Federal Circuit have issued a permanent injunction in a patent infringement lawsuit, overruling the denial of the injunction by the District Court of Delaware. Patent lawyers for Robert Bosch LLC of Farmington Hills, Michigan, who had filed a patent infringement lawsuit in the District Court of Delaware alleging that Pylon Manufacturing Corporation of Deerfield Beach, Florida, infringed patent no. 6,292,974 Glass wiper blade for motor vehicles, patent no. 6,675,434 Wiper blade for the glass surfaces of motor vehicles with an elongated, spring-elastic support element, and patent no. 6,978,512 Wiper blade for cleaning vehicle windows, which have been issued by the US Patent Office.
The technology at issue is a beam-type automobile windshield wiper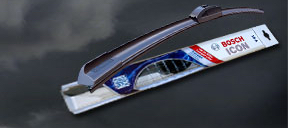 blade that perform better than traditional windshield wipers. Pylon is a competitor windshield wiper blade manufacturer. Patent attorneys for Bosch filed this patent infringement lawsuit in 2008 in the District Court of Delaware. On March 31, 2010, the district court granted Pylon's motion for summary judgment of noninfringement of the '512 patent, but denied summary judgment of noninfringement of the two other patents. The remaining issues were tried by jury, which found that claim 13 of the '974 and '434 patents had been infringed. Bosch then filed a motion for a permanent injunction. The district court denied the permanent injunction, and this ruling is the subject of the Federal Circuit court opinion today.
The Federal Circuit reversed the district court and issued the injunction. The court found that the district court made legal errors in applying the standard for a permanent injunction. The district court also erred in concluding that Bosch had not demonstrated an irreparable harm. Bosch introduced evidence of loss of market share and access to potential customers. The Federal Circuit found that this evidence did demonstrate an irreparable injury. Judge William C. Bryson dissented in part, stating he would have remanded the case to the district court to appropriately apply the correct standard.
Practice Tip: In this case, the Federal Circuit affirmed the standard for granting a permanent injunction in a patent infringement case. The patentee must make a four-part showing:
(1) that it has suffered an irreparable injury; (2) that remedies available at law, such as monetary damages, are inadequate to compensate for that injury; (3) that, considering the balance of hard-ships between the plaintiff and the defendant, a remedy in equity is warranted; and (4) that the public interest would not be disserved by a per-manent injunction.
eBay Inc. v. MercExchange, L.L.C., 547 U.S. 388, 391 (2006). Prior to the eBay case, an injunction normally would issue when there a finding that a patent is valid and has been infringed. However, the Federal Circuit Court's opinion today seems to bolster the availability of injunctions when patent infringement has been found.
This case was assigned to Honorable Circuit Judge Kathleen O'Malley,Honorable Circuit Judge William C. Bryson, and Honorable Circuit Judge Jimmie V. Reyna of the U.S. Court of Appeals for the Federal Circuit and assigned Case No. 2011-1096Decision