Fishers,  Indiana – Digital Verification Systems, LLC ("Digital") is apparently the owner by assignment of U.S. Patent No. 9,054,860 (the "'860 Patent") for a Digital Verified Identification System and Method. According to the Complaint, Formstack, LLC ("Formstack"), the Defendant, offers at least one Product, Formstack Sign, that infringes one or more claims of the '860 Patent.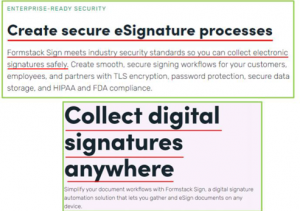 Digital claims Formstack's Product provides a system for e-signing documents and for digitally verifying the identification of the signer as shown below.
Apparently, the Product further includes a digital identification module to be associated with at least one user and at least one verification data element, for example, a unique login ID and password. It also appears a user can store their e-signature within a document using the Product. As Digital claims each of these components of the Product are covered by the '860 Patent, it is seeking damages for patent infringement pursuant to 35 U.S.C. § 284.
The case was assigned to Judge Richard L. Young and Magistrate Judge Tim A. Baker in the Southern District assigned Case 1:21-cv-01067-RLY-TAB.