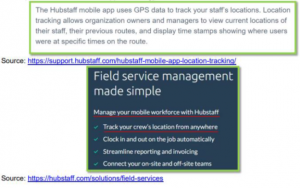 Indianapolis,  Indiana – Apparently the Plaintiff, Social Positioning Input Systems, LLC ("Social"), is the owner by assignment of U.S. Patent No. 9,261,365 (the "'365 Patent"). The '365 Patent is titled "Device, System and Method for Remotely Entering, Storing and Sharing Addresses for a Positional Information Device." Social claims Netsoft Holdings, LLC ("Netsoft"), the Defendant, has infringed on at least Claim 1 of the '365 Patent by making, using, selling, and/or offering for sale associated hardware and software for asset locating (the "Product"). For example, the Product may include Netsoft's Hubstaff asset tracking platform and any associated hardware, apps, or other software.
According to the Complaint, the Product provides an asset tracking system for real-time GPS tracking of assets that the user can see on a positional information device (i.e., a mobile device or computer). The Product apparently allows an organization's owner and managers to track their staff's location, review their previous routes, and display time stamps showing where users were at a specified time along their route. Because Social claims the Product infringes on at least Claim 1 of the '365 Patent, it is seeking damages for patent infringement pursuant to 35 U.S.C. § 284.
The case was assigned to Judge James R. Sweeney II and Magistrate Judge Tim A. Baker in the Southern District of Indiana assigned Case No. 1:21-cv-01071-JRS-TAB.