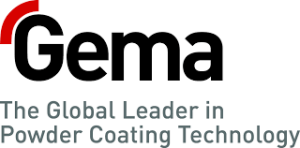 Indianapolis, Indiana – The Plaintiff, Gema USA, Inc. ("Gema") is a Switzerland based company that was founded in 1897 as a metalworking company and operates out of Indianapolis.  Since 2012, Gema has been a part of the global Graco Group, an internationally leading manufacture of liquid conveyance systems and components.  According to the complaint, Gema is a worldwide leader in the design and manufacture of electrostatic powder coating control units, and powder feed systems.  Gema sells a variety of powder guns and spray equipment in this district and throughout the United States.
The Defendant, First in Finishing, Inc., according to their website, was formed by Monte McClung in 2009 after a 20 year Career at Gema.  First in Finishing, Inc.'s mission statement is listed to "Provide quality and reliable powder coating solutions while saving and controlling costs to customers."  They allege to be an Integrator of Gema Products, not a Gema Distributor.
The United States Patent and Trademark Office issued Patent Nos. D667,080, D567,015, D670,356, and D670,786 (collectively, the asserted patents) to Gema in 2012.  The Design Patents are for a variety of powder guns and spray equipment.
Gema Switzerland is the owner and Gema is the exclusive licensee with the exclusive right to sublicense, transfer and enforce, the numerous federally registered trademarks on the USPTO's Principal Register covering Gema's powder coating products, including at least the following, which have been in continuous use in interstate commerce by Gema since at least as early as each respective trademark's registration date:
| | | |
| --- | --- | --- |
| Trademark | Registration No. | Registration Date |
| OPTISELECT | 5204968 | May 16, 2017 |
| OPTIGUN | 2884776 | September 14, 2004 |
| OPTIFLEX | 3419946 | April 29, 2008 |
| OPTISTAR | 5718924 | April 9, 2019 |
| GEMA | 4665146 | January 6, 2015 |
According to the Complaint, Defendant, First in Finishing, Inc. is not an authorized Gema distributor and upon information and belief, does not sell "new" Gema products but rather sells knocks-offs using the Gema Trademarks without authorization. Therefore, Plaintiff is seeking damages for Direct Patent Infringement in violation of 35 U.S. C. § 271, Trademark Infringement, Trademark Counterfeiting, and Unfair Competition, False Designation of Origin, and False Advertising, under 15 U.S.C. §§ 114 and 1125(a).
Plaintiff is requesting a judgment that the Defendant willfully infringed upon Plaintiff's trademarks, and the asserted patents, temporary, preliminary and permanent injunctions, damages, disgorged profits, pre-judgment and post-judgment interest, attorneys' fees, and the costs and expenses of the suit.
The case was assigned to Judge Jane E. Magnus Stinson and Magistrate Judge Kellie M. Barr in the Southern District of Indiana (Indianapolis Division) and assigned Case No. 1:22-cv-02053-JMS-KMB.