South Bend, IN – A patent infringement lawsuit that was originally filed in the District Court of Delaware was transferred to the Northern District of Indiana. Patent lawyers for Gian Biologics LLC of Delaware filed a patent infringement suit in the District Court of Delaware alleging Biomet, Inc. of Warsaw, Indiana infringed patent no.6,835,353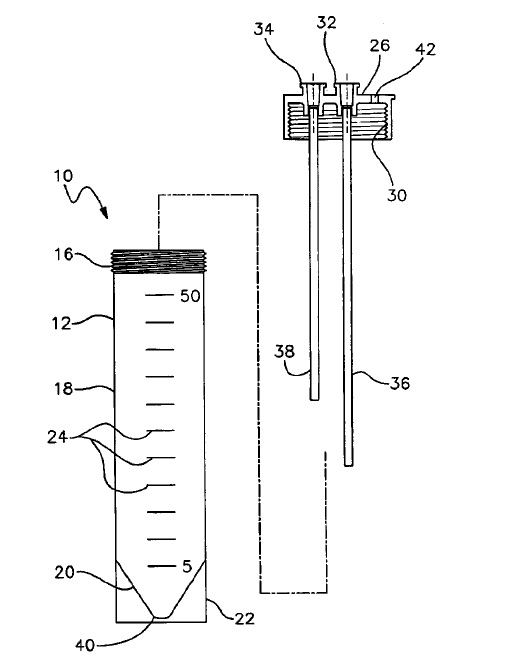 CENTRIFUGE TUBE ASSEMBLY, which has been issued by the US Patent Office.
The patent at issue is used for holding blood and separating blood product in to discrete components. The complaint alleges that Biomet makes, uses, sells, offers for sale and/or imports infringing products, namely several Biomet product lines including Plasmax Concentrator and Gravitational Platelet Separation Systems. The complaint alleges one count of patent infringement and seeks injunction, damages, attorney's fees and costs. Gian's patent attorneys filed the complaint in October 2010.
The case has now been transferred to the Northern District of Indiana by stipulation of the parties. It appears that initially Gian resisted transfer, and the Delaware District Court allowed limited discovery on the issue of transfer. According to the Delaware IP Law Blog, it was revealed that Gian had only been incorporated in Delaware for four months before the lawsuit was filed. The Delaware District Court had then stayed further discovery until the venue issue was resolved and noted it had doubts about whether the case should remain its court. In the parties' stipulation agreeing to transfer, it was noted that "In order to conserve resources – and in light of the fact that the parties are engaged in a parallel patent infringement case in Germany that is scheduled for a bench trial on November 8, 2011 – Gian has concluded that the most efficient resolution would best be accomplished through a stipulated transfer at this time."
Practice Tip: 28 U.S.C. 1404 allows transfer of a case from one district court to another by order of the court or by stipulation and consent of the parties.
This case has been assigned to Judge Jon E. DeGuilio and Magistrate Judge Christopher A. Nuechterlein in the Northern District of Indiana, and assigned Case No. 3:11-cv-00303-JD –CAN.
Further Information about the case is as follows:
Filed: August 1, 2011 as 3:2011cv00303 Updated: August 3, 2011 03:01:00
Plaintiff: Gian Biologics LLC
Defendant: Biomet Biologics LLC
Counter_claimant: Biomet Biologics LLC
Counter_defendant: Gian Biologics LLC
Presiding Judge:Jon E DeGuilio
Referring Judge:Christopher A Nuechterlein
Cause Of Action: Patent Infringement
Court:Seventh Circuit > Indiana > Northern District Court
Type:Intellectual Property > Patent