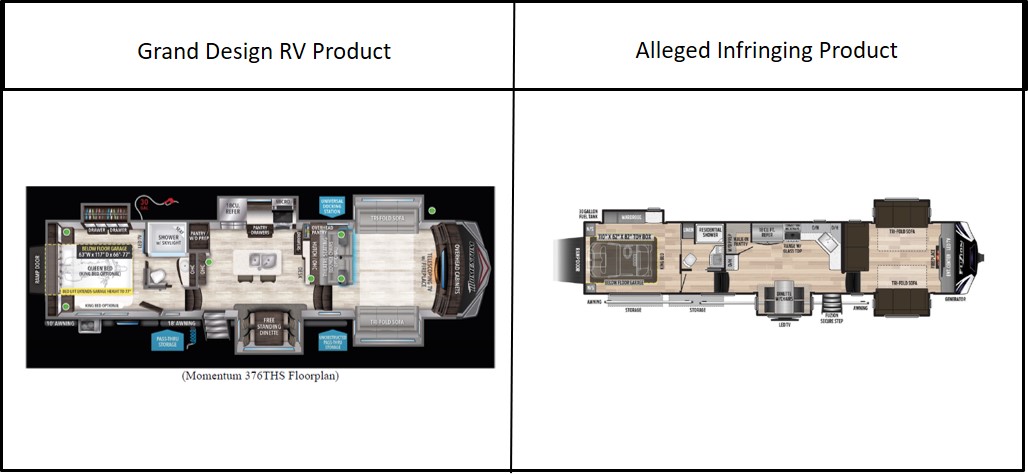 Middlebury, Indiana – According to the Complaint, Grand Design RV, LLC ("Grand Design"), the Plaintiff, designs innovative recreational vehicle products including its line of "toy hauler" recreational vehicles. Grand Design claims the "toy hauler" invention, which depicts a raisable bed positioned above the garage in a recreational vehicle, is protected by U.S. Patent Nos. 10,046,690, and 10,654,398 (the "Grand Patents").
Grand Design claims Defendants, Thor Industries, Inc, Keystone RV Company and Jayco, Inc., offer, make, and/or sell products that infringe the Grand Patents (the "Accused Products"). The Accused Products allegedly include the Keystone Montana High Country Toy Hauler, the Keystone Raptor Toy Hauler, the Keystone Fuzion Toy Hauler, and the Jayco Northpoint Toy Hauler. Apparently Grand Design provided notice of infringement to the Defendants, but the alleged infringement has not ceased. Therefore, Grand Design is seeking damages for patent infringement, including treble damages and attorneys' fees pursuant to 35 U.S.C. §§ 284 and 285.
The case was assigned to Chief Judge Jon E. DeGuilio and Magistrate Judge Michael G. Gotsch, Sr. in the Northern District and assigned Case 3:21-cv-00025-JD-MGG.