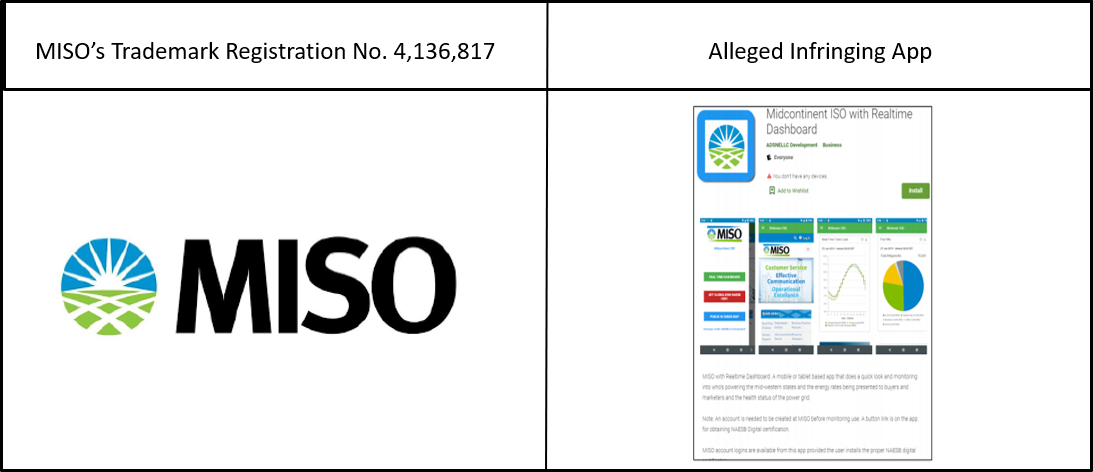 Carmel, Indiana – Apparently Midcontinent Independent System Operator, Inc. ("MISO"), the Plaintiff, delivers electric power across 15 U.S. states and operates one of the world's largest energy markets. In connection with its services, MISO claims it has three registered, incontestable, U.S. Trademarks 4,129,745, 4,616,653, and 4,136,817 (the "MISO Marks"). The MISO Marks include a wordmark for "MISO," and two design marks: .
MISO claims that James F. Sullivan aka Jim Cassidy, the Defendant, under his business ADSNELLC, published a mobile application "Midcontinent ISO with Realtime Dashboard" (the "Infringing App"). The Infringing App and the Google Play listing for the Infringing App allegedly misappropriate and infringe the MISO Marks. Further, MISO claims ADSNELLC has published at least one other mobile application that encourages users to "hunt" and report illegal immigrants. Therefore, MISO claims the mere presence of the Infringing App is causing harm to MISO.
MISO is seeking injunctive relief and damages for trademark infringement and counterfeiting pursuant to 15 U.S.C. §§ 1116 and 1117.
The case was assigned to Judge James R. Sweeney and Magistrate Judge Debra McVicker Lynch in the Southern District and assigned Case 1:21-cv-00143-JRS-DML.