Evansville, Indiana – Plaintiff HealthSmart Foods, Inc., has brought a Trademark infringement suit against Menlo Park, California Defendants Beth Porter and Sweet Nothings, Inc.  In addition to infringement claims, the suit also alleges Unfair Competition, Trademark Dilution, and Deceptive Trade Practices.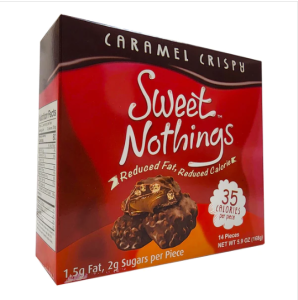 According to the complaint, HealthSmart has been manufacturing, marketing, and selling health food snacks that include a line of chocolates, candies, nut butter food snacks with chocolate/peanut butter flavors, and chocolate/banana/peanut butter flavors, under the SWEET NOTHINGS Trademark (registration no. 5,306,700).  HealthSmart claims that it has marketed and sold these products on its website, on Amazon.com, and in stores across the country.
The Plaintiff's suit claims that the "Defendants have used a mark [SWEET NOTHINGS] identical in appearance, sound, and meaning for substantially similar products." HealthSmart alleges that the Sweet Nothings, LLC, owner, Beth Porter, used the mark even though she became aware of the similarities when the United States Patent and Trademark Office twice refused to issue Porter a Trademark Registration for the SWEET NOTHINGS Mark due to the likelihood of confusion with HealthSmart's SWEET NOTHINGS Mark.  To remedy this, the Plaintiff claims, Porter submitted statements that her products would be exclusively frozen, fruit would be the primary ingredient, and they would contain chia seeds, flax seeds, and dates.  However, HealthSmart argues that Porter has since manufactured and sold "Nut Butter Bites," which is a candy that is not frozen, nor does it contain fruit as a primary ingredient, nor is it comprised of chia seeds, flax seeds, or dates.
Court documents show that the Plaintiff has brought the infringement case because it believes that "The Infringing Goods imitate HealthSmart's brand in a manner that is likely to cause consumer confusion and deceive the public regarding the source, sponsorship, and/or affiliation of those goods.  Defendants' Infringing Goods are therefore unlawful and are causing irreparable harm to HealthSmart's brand."
HealthSmart is asking the Court to prevent the Defendants from using the SWEET NOTHINGS Mark in association with any of the accused infringing products, to order the destruction of all related marketing materials, and to award the Plaintiff with monetary damages, as well as any and all profits Beth Porter and her company received from the sales of the alleged infringing products.
The case has been assigned to Judge Matthew P. Brookman and Magistrate Judge Crystal S. Wildeman, in the U.S. District Court of Southern Indiana, and assigned Case No. 3:23-cv-00060-MPB-MJD.