Columbus, Ohio – Plaintiff Coulter Ventures, LLC, d/b/a Rogue Fitness ("Rogue") filed suit against Bells of Steel USA Inc., for alleged patent infringement of its fitness products in Bell's sporting goods stores, including their Indianapolis, Indiana, Bells of Steel USA Showroom.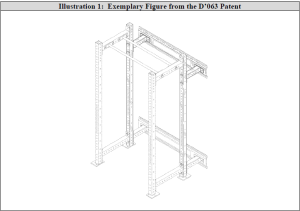 According to the complaint, Rogue Fitness owns several design and utility patents for fitness equipment, including Patent No. 11,173,337: "Weightlifting Assembly and Weight Rack Including Weightlifting Assembly", Patent No. 10,226,661: "Weightlifting Rack Assembly and Wall Mount Bracket for a Weightlifting Rack Assembly," Patent No. D992,063: "Wall Mounted Exercise Rack," Patent No. D961,020: "Weight Plate," and Patent No. RE49,513: "Barbell."  Rogue states that all these patented products are listed on the company's website for the public to view at any time.
In the suit, the Plaintiff alleges that the Defendant has been purposely advertising, marketing, selling, manufacturing, and distributing products that are infringing on Rogue's lawfully held patents. Rogue specifically identified 8 of the products Bells advertises as infringing upon the Plaintiff's patents in their design and/or utility.  The Plaintiffs claim that the Defendant relies on "making cheap copies of products and designs created by others and only later dealing with patent infringement."
Rogue is seeking a jury trial for 5 counts of patent infringement according to U.S. Patent Law 35 U.S.C. § 271.  In addition, the Plaintiff is seeking an injunction against further infringement, a product recall and full refund order of all infringing products, and a monetary award of damages, profits, attorneys' fees, and court costs.
The case has been assigned to Judge Richard L. Young and Magistrate Judge Kellie M. Barr, in the U.S. District Court of Southern Indiana, and assigned Case No. 1:23-cv-01390-RLY-KMB.