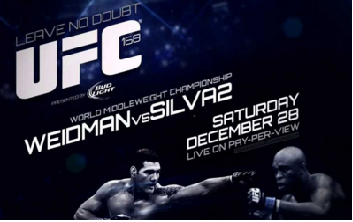 Hammond, Indiana – Plaintiff Joe Hand Promotions, Inc. of Feasterville, Pennsylvania filed an intellectual property lawsuit in the Northern District of Indiana alleging unlawful interception of content protected under federal intellectual property laws. The Defendants are Whitney Chapman, individually and d/b/a Showtime Bar and Grill, and Showtime Bar & Grill LLC, also d/b/a Showtime Bar and Grill. Showtime Bar and Grill operates in Gary, Indiana.
Joe Hand is a commercial distributor of sporting events. It states that it was granted exclusive rights to distribute via closed-circuit telecast the "Ultimate Fighting Championship 168: Chris Weidman v. Anderson Silva" championship fight, which was telecast nationwide on Saturday, December 28, 2013.
In this federal lawsuit, filed by an intellectual property attorney for Plaintiff, Defendants are accused of such wrongful acts as interception, reception, publication, divulgence, display, exhibition, and tortiously converting the fight program.
In addition to naming Showtime Bar and Grill LLC, Joe Hand has also sued Chapman as an individual, asserting that she had the right and ability to supervise the activities of the establishment and that, included in those activities, was the unlawful interception of the program.
Plaintiff asserts that, in addition to conversion of the program, Defendants have violated 47 U.S.C. § 605 and 47 U.S.C. § 553. Joe Hand seeks damages, including additional damages for any violation deemed willful as well as costs and attorneys' fees.
Overhauser Law Offices, the publisher of this website, has represented several hundred persons and businesses accused of infringing satellite signals.
The case was assigned to Judge Philip P. Simon and Magistrate Judge Paul R. Cherry, in the Northern District of Indiana and assigned Case No. 2:15-cv-00460-PPS-PRC.