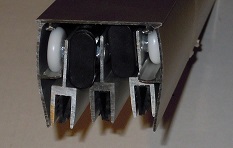 South Bend, Indiana – Plaintiff Shower Enclosures America, Inc. of Ontario, California sued in the Northern District of Indiana alleging that BBC Distribution Corp. of Elkhart, Indiana infringed "Triple Slide Assembly for Sliding Doors," U.S. Patent No. 7,174,944, which was issued by the U.S. Patent and Trademark Office.
An Indiana patent attorney for Plaintiff Shower Enclosures America, Inc. ("SEA") filed this lawsuit alleging that Defendant BBC Distribution, LLC ("BBC") is infringing SEA's patent on a triple-slide assembly for sliding doors, a product which is cited in the complaint as particularly appropriate for use in recreational vehicles. The patent at issue is directed to "products, such as shower doors, which have three door panels mounted into a compact, two-track header which allows the panels to slide easily between open and closed positions." SEA makes and sells products that incorporate the patented invention.
BBC is accused of infringing with its "Tripass" shower door. SEA contends that the BBC product infringes at least claim 12 of the patent-in-suit either literally or under the doctrine of equivalents.
SEA requests that the court grant it equitable relief as well as damages for the alleged patent infringement.
The case filed in the Northern District of Indiana and assigned Case No. 3:15-cv-00627 has been assigned to a Judge Phillip P. Simon and Magistrate Judge Christopher A. Nuechterlein.