Indianapolis, Indiana – In Bell v. Glacier International, District Judge Tanya Walton Pratt (pictured) of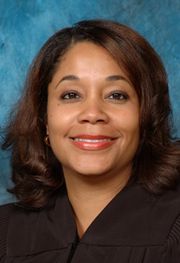 the Southern District of Indiana granted default judgments against three defendants, DiamondIndyLimo.com, Lon Dunn and Glacier International. In the three nearly identical opinions, the three defendants were each ordered to pay statutory damages of $2,500 for infringing a copyrighted photograph.
In January 2013, Indiana copyright attorney and professional photographer Richard N. Bell, acting as his own copyright lawyer, sued alleging copyright infringement under the Copyright Act and conversion under Indiana statutory law as a result of the allegedly unauthorized use of a photograph he had taken. This photograph had been registered with the United States Copyright Office.
In this lawsuit, Bell sued forty-eight Defendants: Jerry Gordon; Demand Media, Inc.; Bryce Welker; Royal Corniche Travel Ltd.; VRBO.com, Inc.; Experience Credit Unions, LLC; Jaclothing.com; Glacier International; ABNHotels.com; 1&1 Internet, Inc.; Conde Nast Digital; Flixter, Inc.; Financing-USA.com; SodaHead, Inc.; NuMedia Marketing, Inc.; Jynell Berkshire; Tzvetelin Petrov; Los Pentecostales del Area de la Bahia; 10Best, Inc.; Keyes Outdoor Advertising; Zoom Communications Inc.; Christine Nevogt; Zarzar, Inc.; Hydro-Gear; Tam T. Dang; Lon Dunn; William McLaws, Trustee; Natl-electronic Residential Payment History Recording Agency; CVI; Constant Contact, Inc.; Charles Lantz; Schumacher Cargo Logistics; Eventbrite, Inc.; Celebrity Entertainment Corp.; Association of Equipment Manufacturers; Yardi Systems Inc.; DiamondIndyLimo.com; Marcelo Santos; National Rural Recruitment & Retention Network; Anbritt Stengele; Pinnacle Sports Equipment, Inc.; Marygrove College; RunAnyCity.com; Buzzle.com, Inc.; Charles Onuska; University of Indianapolis; and PersephoneMagazine.com.
Bell alleged that each Defendant, independent of each other Defendant, "created a website to promote and advertise its own business" and placed Bell's copyrighted photo on each of the Defendants' respective websites. In addition to asserting copyright infringement, Bell also alleged criminal misconduct under Indiana statutory law. Bell requested an injunction and a declaratory judgment. He also asked the court for damages for copyright infringement under the Copyright Act as well as treble damages under an Indiana criminal statute prohibiting conversion.
In September 2013, the court entered default judgments against each of the three Defendants. Last week, the court issued three new opinions addressing the damages to be assessed against those Defendants.
The court first discussed the issue of damages for copyright infringement. Under 17 U.S.C. § 504(c)(1), statutory damages, in lieu of actual damages and profits, may be awarded "in a sum not less than $750 or more than $30,000" for each finding of infringement. A determination of willful copyright infringement permits the court in its discretion to increase the award of statutory damages up to $150,000 per infringement.
In determining the appropriate measure of statutory damages, the court considers factors including: (1) the infringer's state of mind; (2) the expenses saved, and profits earned, by the infringer; (3) the revenue lost by the copyright holder; (4) the deterrent effect on the infringer and third parties; (5) the infringer's cooperation in providing evidence concerning the value of the infringing material; and (6) the conduct and attitude of the parties.
The court declined to find the copyright infringement to be willful, in part because Bell requested statutory damages well under $30,000.00 per instance of infringement. Instead, the court found that $2,500 per Defendant was an appropriate measure of damages. An injunction was also granted, as it would serve the public interest by protecting copyrighted material and encouraging compliance with federal law. The injunction will be lifted upon payment of the award of statutory damages.
A claim of conversion under Indiana state law, and treble damages awarded pursuant to such a claim, was denied as preempted by the Copyright Act. Indiana code § 35-43-4-3(a) provides that a "person who knowingly or intentionally exerts unauthorized control over property of another person commits criminal conversion." However, section 310 of the Copyright Act preempts "all legal or equitable rights that are the equivalent to any of the exclusive rights within the general scope of copyright" and that "no person is entitled to any such right or equivalent right in any such work under the common law or statutes of any State." The court held that the photograph in question was clearly under the scope of the Copyright Act and that Bell had not sufficiently alleged a right apart from the Act. Thus, no damages were available under Bell's state law conversion claim.
Practice Tip:
Deciding to simply ignore a complaint, as these defendants apparently did, can be a costly error. Failing to present the defendants' versions of the facts and arguments results in the court considering only the plaintiff's side of the story. Here, because the defendants chose to leave the complaint unanswered, the well-pled allegations of the plaintiff relating to liability were taken as true.
After the entry of default judgment, the court then conducted an inquiry to ascertain the amount of damages. Again, in such circumstances, it serves a defendant well to plead his case – to present the court with reasons that the plaintiff should not get 100% of what he requests.
Under 17 U.S.C. § 504(c)(1), a copyright owner may elect actual or statutory damages. Statutory damages range from a sum of not less than $750 to not more than $30,000. The determination of the exact amount is left to the discretion of the court. In this case, Richard Bell asked the court for no less than $5,000. In some cases, courts in determining damages in cases of default judgment have granted the entire amount. In this case, the court took the additional step of considering the cost to purchase Plaintiff Bell's picture – $200 – and incorporated that into its determination of the proper amount of damages to be awarded.
The case was filed by Richard Bell in the Southern District of Indiana. The case was assigned to Judge Tanya Walton Pratt and Magistrate Judge Denise K. LaRue and assigned case number 1:13-cv-00035-TWP-DKL.