Indianapolis, Indiana – Attorneys for Plaintiff, Michel Keck of Jefferson Township, Owen County, Indiana, filed suit in the Southern District of Indiana alleging that Defendants, John Mark Lawrence d/b/a Mark Lawrence Art Gallery of Alpharetta, Georgia, and DOES 1 through 25 infringed numerous pieces of artwork. Plaintiff is seeking judgment, actual damages, statutory damages, cost of litigation, and reasonable attorney's fees.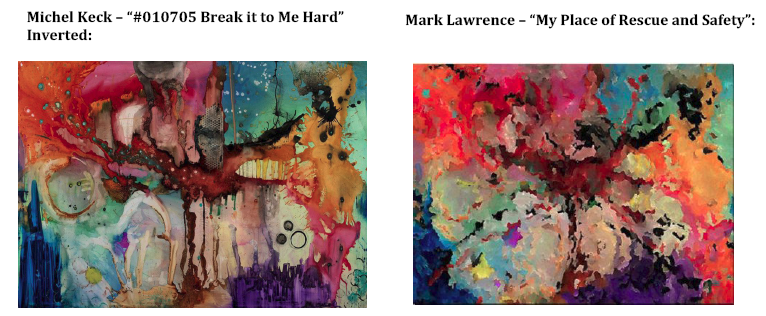 Keck is a successful abstract and mixed media artist. She opened an online art gallery and her own fine art publishing company in 2006. Over 1,500 of her original paintings had sold by the end of 2006 to art collectors throughout the world. Keck has registered 22 original paintings (the "Works") with the United States Copyright Office.
Defendant Lawrence gave an interview in 2009 stating that he creates his art by digitally manipulating existing images using Photoshop and other such computer programs. In April 2014, Keck was approached by an online distributor, Framed Canvas Art, and was given Lawrence's contact information as a reference. In response to Keck's email seeking information about the distributor, Lawrence stated, "I just took a look at your art – wow! You have a new fan." Over three years later in September 2017, Keck found numerous art pieces for sale attributed to Lawrence that appeared to be unauthorized derivatives of her Works. It looked as though Lawrence would take one of Keck's Works and then mirror or rotate it before running it through a computerized filter (creating "Unauthorized Derivative Works").
Through further research, Plaintiff found that nearly all of Lawrence's Unauthorized Derivative Works were being sold in direct competition with her own Works through the same distribution channels, mainly online retailers. Keck sent an email to Lawrence on or about September 21, 2017 identifying the six Works that she had discovered were being used in his Unauthorized Derivative Works. The following day, Keck and Lawrence spoke over the phone regarding Keck's discovery. Lawrence stated that he never intended to "copy anyone's work in a fashion where it would be confused and cost another person a sale." After the call, Keck searched Lawrence's other pieces online and found at least 22 additional Unauthorized Derivative Works. Plaintiff is seeking judgment, damages, attorney's fees, and costs for copyright infringement under 17 U.S.C. § 101 et seq.
The case was assigned to District Judge Robert L. Miller Jr. and Magistrate Judge Doris L. Pryor in the Southern District and assigned Case 2:87-cv-00250-RLM-DLP.