Indianapolis, Indiana – Attorneys for Plaintiff, Matthew Cunningham of Michigan City, Indiana, filed suit in the Northern District of Indiana alleging that Defendant, Montgomery & Associates, Inc. also of  Michigan City, Indiana, infringed his rights in United States Copyright Registration No. VA 2-126-377 (the "Registered Photo"). Plaintiff is seeking actual damages, court costs, attorneys' fees, pre and post judgment interest, and any other relief the Court deems just and proper.
Plaintiff is a professional photographer that licenses his photographs to online and print media companies in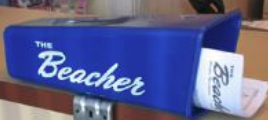 exchange for a fee. Defendant owns and operates a magazine entitled The Beacher. The Registered Photo at issue in this case is one that Cunningham took of Jessica and Nick Rosier. Plaintiff is the sole owner of all right, title, and interest to the Registered Photo.
Cunningham claims that Defendant ran an article in The Beacher on or about May 24, 2018 that prominently featured the Registered Photo. Neither the article, nor the Registered Photo, contained any attribution to the Plaintiff. Plaintiff claims he never licensed the Registered Photo to Defendant, did not give consent or permission for its use, and Defendant knew the Plaintiff was the author and owner of it. As such, Plaintiff is seeking judgment and damages for copyright infringement pursuant to 17 U.S.C. §§ 106 and 501, and relief for the Defendant's actions of knowingly removing the copyright management information from the Registered Photo pursuant to 17 U.S.C. § 1202(b).
The case was assigned to District Judge Philip P. Simon and Magistrate Judge Michael G. Gotsch, Sr. in the Northern District and given Case No. 3:19-cv-00010-PPS-MGG.