Indianapolis, Indiana – An attorney for Plaintiff Megan Aroon Duncanson of Florida commenced litigation in the Southern District of Indiana alleging copyright infringement.
Defendants in this lawsuit are Wine and Canvas IP Holdings LLC (Indianapolis, Indiana) ("IP Holdings") and the following entities, which Plaintiff contends are "licensees" of Wine and Canvas IP Holdings: Wine and Canvas Development, LLC (Indianapolis, Indiana), WNC of Cincinnati LLC (Ohio), WNC of Columbus LLC (Ohio), WNC of Dayton LLC (Ohio), WNC of Detroit LLC (Michigan), WNC of Des Moines LLC (Iowa), WNC of Fort Wayne LLC (Indiana), WNC of Las Vegas LLC (Nevada), WNC of Napa Sonoma LLC (California), WNC of Odessa LLC (Texas), WNC of Portland LLC (Oregon), WNC of South Bend LLC (Indiana), WNC of San Francisco LLC (California), Tamara McCracken a/k/a Tamra Scott (Indiana) and Anthony Scott (Indiana).
Under the business names "Wine and Canvas" and "Wine & Canvas," Defendants offer art classes to students who paint while enjoying cocktails. Each class involves a "Featured Painting" that the students paint, which is purportedly selected by a licensee from a portfolio maintained by IP Holdings. That painting is also allegedly displayed on the IP Holdings website prior to the class. Plaintiff contends that IP holdings "often credits the author of the painting as simply 'Wine and Canvas.'"
Plaintiff contends that by using her works, Defendants infringed the following copyrights-in-suit, which have been registered with the U.S. Copyright Office: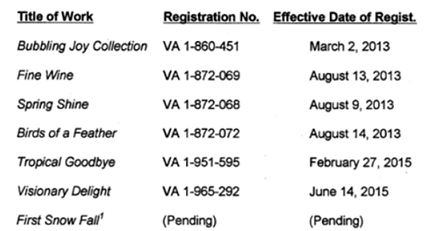 The following two works were copyrighted as part of collections titled "Published Paintings 2006" and "Published Paintings 2008" and are also at issue in the lawsuit:

In this federal lawsuit filed under the Copyright Act, Plaintiff avers direct, contributory, and vicarious contributory copyright infringement of her rights to reproduce, make derivative works, and publicly display her works. The copyright lawyer for Plaintiff lists 36 counts in total, with the first 7 asserting copyright infringement before registration of the works and the remainder asserting infringement after registration.
Plaintiff Duncanson contends that both IP Holdings and its licensees acted willfully and knowingly. She seeks various forms of relief, including equitable relief; damages, with enhanced damages for acts found to be willful; costs and attorney fees.
Practice Tip: Wine & Canvas has litigated in Indiana federal courts in the past alleging infringement of its trademark. See, e.g.:
• Wine & Canvas Development Sues YN Canvas & Art Uncorked for Trademark Infringement of the WC Marks
• Wine & Canvas Litigation Narrowed and Clarified by Court
• Southern District of Indiana Dismisses Wine & Canvas' Suit for Lack of Personal Jurisdiction
• Court Strikes Response Brief Due to Untimely, Overlong Filing

• Trademark Plaintiff Abused Legal Process; Trademark Defendant Awarded an Additional $175,000 in Attorneys' Fees
The case was assigned to Judge Sarah Evans Barker and Magistrate Judge Denise K. LaRue of the Southern District of Indiana and assigned Case No. 1:16-cv-00788-SEB-DKL.