Indianapolis, Indiana – Attorneys for Plaintiffs, All Cell Technologies, LLC ("All Cell") and Illinois Institute of Technology ("IIT"), both of Chicago, Illinois, filed suit in the Southern District of Indiana alleging that Defendants, Workhorse Motor Works Inc. ("WMW") of Union City, Indiana, and Workhorse Group Inc. ("WGI") of Loveland, Ohio (collectively "Workhorse") infringed their rights in United States Patent No. 6,468,689 (the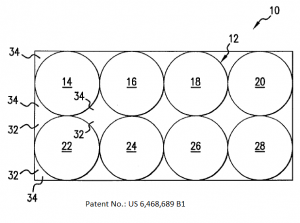 "'689 Patent") for "Thermal Management of Battery Systems", U.S. Patent No. 6,942,944 (the "'944 Patent") for "Battery System Thermal Management", and U.S. Patent No. 8,273,474 (the "'474 Patent") for "Battery System Thermal Management". The Plaintiffs are seeking damages, prejudgment interest, and any further relief that the Court deems proper.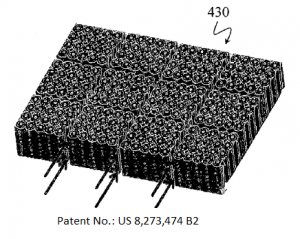 According to the complaint, All Cell utilizes phase change materials ("PCM") to build blocks adapted to house electrochemical cells. The thermal management blocks used by All Cell allegedly utilize PCM to absorb and conduct heat away from the electrochemical cells to extend the life of the cell and prevent damage or fire to electrochemical batteries. Workhorse is in the business of developing and manufacturing electric vehicles and plug-in hybrid vehicles. All Cell claims it worked with Workhorse previously to provide its thermal management blocks for Workhorse's electric vehicles. Per the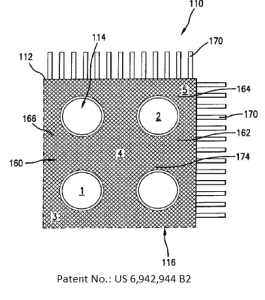 complaint, Workhorse stopped purchasing thermal management blocks and electrochemical cells from All Cell in early 2017 and began purchasing them from alternate sources.
It is alleged that the '689 Patent, the '944 Patent, and the '474 Patent are all owned by IIT with All Cell having an exclusive licensing agreement for the use of the patents, giving both parties standing to sue for infringement. As such, IIT and All Cell have collectively brought a patent infringement action against Workhorse. Plaintiffs allege at least claims 1-6 and 8 of the '689 Patent, claims 1, 2, 15, 16, 21-23, and 26 of the '944 Patent, and claims 1-3, 5, 7, 9-12, and 15-19 of the '474 Patent have been or are being infringed by Workhorse. IIT and All Cell are claiming infringement pursuant to 35 U.S.C. § 271(a), knowingly and actively inducing infringement by others pursuant to 35 U.S.C. § 271(b), and knowingly and actively contributing to the infringement by others pursuant to 35 U.S.C. § 271(c). Plaintiffs are seeking damages to compensate for the infringement but are seeking no less than a reasonable royalty under 35 U.S.C. §284.
The case was assigned to District Judge Richard L. Young and Magistrate Judge Debra McVicker Lynch in the Southern District and assigned Case 1:19-cv-02975-RLY-DML.