Indianap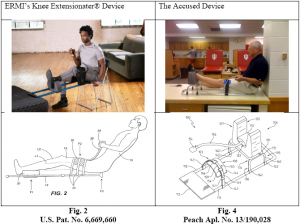 olis, Indiana – Attorneys for Plaintiff, ERMI LLC ("ERMI") of Atlanta, Georgia, filed suit in the Southern District of Indiana alleging that Defendants, Clyde Peach, Jr., ("Mr. Peach") d/b/a Indiana Brace Co Inc., d/b/a, Clyde Peach LLC, d/b/a Peach Medical, LLC of Indianapolis, Indiana, willfully infringed its rights in United States Patent No. 6,669,660 (the "'660 Patent") for "Orthotic Apparatus and Method for Using Same." ERMI is seeking damages, costs, attorneys' fees, pre-judgment and post-judgment interest, and any other relief the Court deems proper.
According to the Complaint, Dr. Thomas P. Branch ("Dr. Branch") while practicing as a board certified orthopedic surgeon with TREX Orthopedics, P.C., invented the orthotic apparatus claimed in the '660 Patent. Dr. Branch allegedly assigned all rights to the continuation patent application that led to the issuance of the '660 Patent to ERMI. The '660 Patent expired on August 10, 2019. ERMI claims it produces and sells the ERMI Knee Extensionater® device that is covered by the claims of the '660 Patent and marked with the '660 Patent number.
ERMI claims Mr. Peach filed a provisional followed by a non-provisional patent application (the "Peach '028 Application") for a Knee Extension Therapy Device in July 2010 and July 2011, respectively. The Peach '028 Application was allegedly rejected by the United States Patent and Trademark Office on August 2, 2013 citing a number of patent references including the '660 Patent. ERMI claims the Peach '028 Application became abandoned on September 11, 2014 and that "Mr. Peach had actual notice of the '660 Patent no later than August 2, 2013."
Mr. Peach allegedly maintains a website used to offer several products for sale including "Clyde's TKE Terminal Knee Extender" (the "Accused Device"). On his website, Mr. Peach allegedly has images of himself using the Accused Device, a hyperlink to a video on how to use the Accused Device, and replacement parts for the Accused Device offered for sale. ERMI claims Mr. Peach also states his "Terminal Knee Extender (TKE) for knee flexion contractures" is "Patent pending" although his application was abandoned in 2014. Additionally, ERMI claims Mr. Peach lists over 125 current users of the Accused Device on his website with the earliest current user beginning use on August 5, 2012 and the newest user beginning use on March 7, 2019.
As such, ERMI is seeking damages for willful direct patent infringement, pursuant to 35 U.S.C. § 271(a). Next, ERMI is claiming damages for indirect patent infringement under 35 U.S.C. § 271(b) and (c). Finally, ERMI is seeking damages for patent false marking pursuant to 35 U.S.C. § 292.
The case was assigned to Senior Judge Sarah Evans Barker and Magistrate Judge Tim A. Baker in the Southern District and assigned Case 1:19-cv-004628-SEB-TAB.