South Bend, Indiana – Attorneys for Plaintiff, Ellison Educational Equipment of California, filed suit in the Northern District of Indiana alleging that Defendants, Heartfelt Creations, Inc. and DOES 1-10 of Goshen, Indiana, infringed its rights in the United States Patent No. 9,079,325 (the '325 Patent). Plaintiff is seeking a permanent injunction, punitive damages, compensatory damages, attorneys' fees, and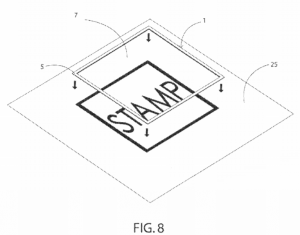 costs.
Ellison was founded in 1977 by a husband and wife who designed the first hand-operated die-cutting machine. Plaintiff has continued to provide innovations in the educational and craft markets ever since and even launched a new craft brand, Sizzix® in 2001. On July 15, 2011, Ellison filed a provisional patent application for a "Chemical-Etched Die Having Improved Registration Means." The '325 Patent was issued stemming from the provisional patent application on July 14, 2015.
Heartfelt is alleged to have created patterns that are turned into chemically-etched dies and are used in conjunction with the method taught by the '325 Patent. Further, the company gives demonstrations on how to use the product in violation of the '325 Patent and teaches the public how to infringe the '325 Patent on Heartfelt's YouTube channel. Ellison sent a cease and desist letter to Heartfelt based on Ellison's beliefs Heartfelt was infringing the '325 Patent on December 21, 2018.
Plaintiff is claiming direct patent infringement pursuant to 35 U.S.C. § 271(a) with enhanced damages under 35 U.S.C. § 284. Second, it is claiming inducement of infringement pursuant to 35 U.S.C. § 271(b). Finally, Ellison is claiming contributory infringement pursuant to 35 U.S.C. § 271(c).
The case was assigned to District Judge Philip P. Simon and Magistrate Judge Michael G. Gotsch, Sr.in the Northern District and assigned Case 3:19-cv-00099-P PS-MGG.