South Bend, Indiana – Attorneys for Plaintiffs, Stoett Industries, Inc. ("Stoett") of Hicksville, Ohio and Newline International, LLC ("Newline") of Culpeper, Virginia, filed suit in the Northern District of Indiana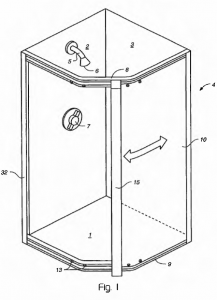 alleging that Defendant, Irvine Shade & Door, Inc. ("Irvine") of Elkhart, Indiana, infringed their rights in United States Patent No. 6,470,511 (the "'511 Patent") for "SHOWER SCREENS". Plaintiffs are seeking preliminary and permanent injunction, treble damages, attorneys' fees, expenses, costs, and other relief the court deems proper.
According to the Complaint, Newline was founded in New Zealand in 1983 and expanded its sales and facilities for shower screens into the United States in 2002. While Newline is the owner of the '511 Patent, Stoett claims to be the exclusive distributer for products covered by the '511 Patent in the United States via a licensing agreement dated December 2, 2012. Stoett allegedly sells a single shower screen for about $215.00 and has sold over 90,000 shower screens throughout the United states.
Plaintiffs believe Irvine has entered into contracts or has relationships with third-parties to make or sell infringing shower screens which either have or will result in lost sales for Newline and Stoett. As such, Plaintiffs are seeking damages for the alleged infringement of the '511 Patent pursuant to 35 U.S.C. § 271. Second, Plaintiffs are alleging Irvine has participated in state deceptive trade practices in violation of Ohio's deceptive trade practice laws, Ohio Rev. Code § 4165.01, et seq. Finally, Plaintiffs are seeking damages for the alleged unfair competition by Irvine and unjust enrichment.
The case was assigned to Judge Damon R. Leichty and Magistrate Judge Michael G. Gotsch, Sr. in the Northern District and assigned Case 3:19-cv-00835-DRL-MGG.