Indianapolis, Indiana – An Indiana patent attorney for Eli Lilly and Company of Indianapolis,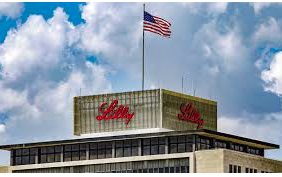 Indiana, in conjunction with Washington, D.C. co-counsel, sued for patent infringement in the Southern District of Indiana. Lilly claims that Emcure Pharmaceuticals Ltd. of Pune, India; Heritage Pharma Labs, Inc. of East Brunswick, New Jersey; and Heritage Pharmaceuticals, Inc. of Eatontown, New Jersey, will infringe and/or have infringed Lilly's patented "Novel Antifolate Combination Therapies," U.S. Patent Number 7,772,209 (the "'209 patent"), which has been issued by the U.S. Patent Office.
Plaintiff Lilly is in the business of, among other things, the manufacture and sale of various pharmaceuticals. Emcure Pharmaceuticals Ltd. is a generic pharmaceutical company engaged in developing, manufacturing and marketing a broad range of pharmaceutical products. Heritage Labs is believed to perform functions relating to Emcure's active pharmaceutical ingredient as well as formulation research and development. Heritage Pharmaceuticals is thought to be engaged in the acquisition, licensing, development, marketing, sale, and distribution of generic pharmaceutical products for the U.S. prescription drug market on behalf of Emcure.
Alimta®, which is licensed to Lilly, is a chemotherapy agent used for the treatment of various types of cancer. The drug is composed of the pharmaceutical chemical pemetrexed disodium. It is indicated, in combination with cisplatin, (a) for the treatment of patients with malignant pleural mesothelioma, or (b) for the initial treatment of locally advanced or metastatic nonsquamous non-small cell lung cancer.
Alimta is also indicated as a single-agent treatment for patients with locally advanced or metastatic nonsquamous non-small cell lung cancer after prior chemotherapy. Additionally, Alimta is used for maintenance treatment of patients with locally advanced or metastatic nonsquamous non-small cell lung cancer whose disease has not progressed after four cycles of platinum-based first-line chemotherapy. One or more claims of the '209 patent cover a method of administering pemetrexed disodium to a patient in need thereof that also involves administration of folic acid and vitamin B12.
This Indiana lawsuit for patent infringement, submitted to the court by an Indiana patent lawyer, was triggered by the filing by defendant Emcure Pharmaceuticals of an Abbreviated New Drug Application ("ANDA") with the U.S. Food and Drug Administration. In that ANDA, Emcure Pharmaceuticals seeks approval to manufacture and sell its pemetrexed for injection, 500 mg/vial product prior to the expiration of the '209 patent.
This patent litigation asserts a single count: infringement of U.S. Patent No. 7,772,209. Lilly asks for a judgment that Emcure has infringed the '209 patent and/or will infringe, actively induce infringement of, and/or contribute to infringement by others of the '209 patent; a judgment that use of the intellectual property currently covered by the '209 patent shall be protected until its expiration date; injunctive relief; attorneys' fees and expenses; as well as other relief.
The case was assigned to Judge Jane Magnus Stinson and Magistrate Judge Tim A. Baker in the Southern District of Indiana and assigned Case No. 1:15-cv-01244-JMS-TAB.