Indianapolis, Indiana – Attorneys for Plaintiff, Eli Lilly and Company of Indianapolis, Indiana filed suit in the Southern District of Indiana alleging that Defendants, Dr. Reddy's Laboratories, LTD. of Hyderabad, Telagana, India, and Dr. Reddy's Laboratories, Inc,. a New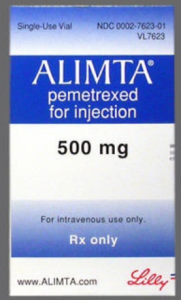 Jersey corporation, infringed its rights in U.S. Patent No. 7,772,209 ("the '209 Patent").
The '209 Patent at issue here is a method patent for administering pemetrexed disodium, a chemotherapy drug, with vitamins, the combination of which is marketed as ALITMA® by Lilly. This invention helps to solve the toxicity issue in chemotherapy patients being treated with pemetrexed. The particular regimen of vitamin  and folic acid are important for the pretreatment of these patients. As of December 2015, Dr. Reddy's informed Lilly that it had submitted a FDA New Drug Application for a product that would be marketed as a competing product to ALITMA®.
The first issue the Court had to decide was whether Lilly was barred from asserting the doctrine of equivalents under prosecution history estoppel. The Court held that Lilly had not surrendered the equivalent in question because their decision to use the choice pemetrexed salt was tangential to the reasons for the amendment. The choice to narrow was simply to overcome a rejection in view of a prior art article about a different antifolate, methotrexate.