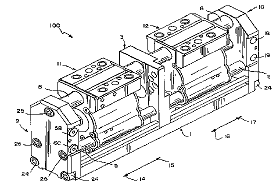 Fort Wayne, Indiana – Indiana patent attorneys for PHD, Inc. of Fort Wayne, Indiana filed an intellectual property complaint in the Northern District of Indiana alleging that DE-STA-CO of Auburn Hills, Michigan infringed its patent on the "Long Travel Gripper," Patent No. 7,490,881, which has been registered by the U.S. Patent Office.
Plaintiff asserts rights acquired via assignment to a patented product called "Long Travel Gripper," U.S. Patent No. 7,490,881 (the "'881 Patent"). On April 29, 2014, Defendant was notified that its product "RPR Gladiator Series Gripper" appeared to infringe the '881 Patent.
In this Indiana patent litigation, Defendant is accused of infringing the '881 Patent as well as inducing infringement by others. Plaintiff contends that the infringing activities have been willful and that this case is exceptional, entitling it to an award of attorneys' fees.
Plaintiff asks the court for a judgment of infringement; damages, including treble damages; a declaration that the case is exceptional and an award of attorneys' fees pursuant to such a finding; and injunctive relief.
Practice Tip: The U.S. Supreme Court expanded upon existing jurisprudence regarding "exceptional" patent lawsuits this year. In two related cases, it held that a trial court may as a matter of its discretion award attorneys' fees in cases of patent infringement litigation that it deems "exceptional." These Supreme Court rulings revisiting how "exceptional" is defined may benefit any company that is the target of a questionable patent infringement lawsuit, as trial judges will now have greater latitude to award attorneys' fees – including awarding attorneys' fees to prevailing defendants – in those cases in which they determine that the conduct of the losing party "stands out from others."
The suit was filed by Jon A. Bragalone and J. Blake Hike of Carson Boxberger LLP. The case was assigned to Judge Joseph Van Bokkelen and Magistrate Judge Roger B. Cosbey in the Northern District of Indiana and assigned Case No. 1:14-cv-00319-JVB-RBC.