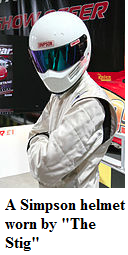 Hammond, Indiana – Trademark and patent attorneys for Simpson Performance Products, Inc. of Mooresville, North Carolina ("Simpson") and SFI Foundation, Inc. of Poway, California ("SFI") commenced trademark litigation in the Western District of North Carolina alleging that Robert Wagoner of North Judson, Indiana and Derek Randall Cathcart of Valparaiso, Indiana infringed the SIMPSON® family of trademarks, some of which have been registered by the U.S. Trademark Office. The case was transferred to the Northern District of Indiana. Among the trademarks at issue are U.S. Trademark Registration Nos. 4,117,821; 1,243,427; 3,026,333; 3,026,334; and 3,050,920. Also at issue are U.S. Patent Nos. 6,931,669 and 8,272,074.
Plaintiff Simpson is a manufacturer of automotive and motorsports specialty/performance products, including head and neck restraints for competitive racing. The Simpson brand of automotive and motorsports products has existed 1959. Plaintiff SFI was established to develop and administer minimum performance standards for the automotive aftermarket and motorsports industries, including standards for specialty/performance racing equipment.
Simpson offers for sale the SIMPSON® Hybrid PRO Rage™ head and neck restraint. Simpson indicates that this product is one of the few such devices to be certified under a special classification, SFI SPEC 38.1, for use in NASCAR competitions.
Defendants Wagoner and Carthcart have been accused of engaging in the business of providing specialty/performance racing equipment, including head and neck restraints that are counterfeit versions of Simpson products. Plaintiffs contend that Wagoner is offering counterfeit head and neck restraints through ebay.com. Plaintiffs allege that Cathcart offers counterfeit head and neck restraints via the website racingjunk.com.
These restraints, Plaintiffs contend, bear trademarks owned by Simpson, including the SIMPSON® federally registered trademark as well as the HUTCHENS Hybrid PRO™ and Hybrid PRO™ common law trademarks.
The accused products also allegedly bear a label that falsely states, "This product designed & manufactured by Safety Solutions, Inc. PATENT NO.: 6931669; other patents pending." According to Plaintiffs, the alleged counterfeiting activities of Defendants also constitute patent infringement.
In this lawsuit, filed by patent and trademark lawyers for Plaintiffs, the following causes of action are listed:
• Trademark Infringement
• Unfair Competition under 15 U.S.C. § 1125(a); False Designation of Origin; False or Misleading Advertising
• Unfair and Deceptive Trade Practices under N.C. [North Carolina] Gen. Stat. § 75-1.1
• Patent Infringment [sic]

• Common Law Fraud
Plaintiffs ask for a finding in their favor on each of the counts alleged, including a finding that the conduct was knowing and willful, and entry against each Defendant jointly and severally. Plaintiffs seek costs, attorneys' fees and damages, including enhanced damages, as well as injunctive relief.
This federal trademark complaint was initially filed in the Western District of North Carolina in February 2015. In May 2015, District Judge Richard Voorhees ordered it to be transferred to the Northern District of Indiana, finding that the North Carolina court lacked personal jurisdiction over Defendants.
The case was assigned to Judge Theresa L. Springmann and Magistrate Judge John E. Martin in the Northern District of Indiana and assigned Case No. 2:15-cv-00213-TLS-JEM.