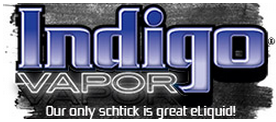 South Bend, Indiana – Indigo Vapor Enterprises LLC of South Bend, Indiana commenced intellectual property litigation against Indigo Vapor Company, LLC, Robert Lee Martin and Charles Nandier of Tucson, Arizona.
Indigo Vapor Enterprises is in the business of selling "vaping" and e-cigarette materials across the United States and throughout the world. It alleges that Defendant sells similar goods in the same marketplace.
Plaintiff contends that Defendants infringed its trademarks, consisting of a stylized INDIGO VAPOR trademark, Registration No. 4,790,247, and a second trademark for INDIGO VAPOR, Registration No. 4,790,244 by using the Indigo Vapor Enterprises name and those trademarks to promote Defendants' competing products. These accused uses include the operation of a website at www.indigovaporcompany.com. Both trademarks have been filed with the U.S. Patent and Trademark Office.
Plaintiff alleges trademark infringement, dilution and false designation of origin under the Lanham Act. It also asserts cybersquatting under the Anticybersquatting Consumer Protection Act ("ACPA") and trademark infringement and unfair competition under the common law of Indiana and other states.
In this lawsuit, filed by Indiana trademark attorneys for Indigo Vapor Enterprises, the following causes of action are listed:
• Count I – Federal Trademark Infringement – Lanham Act (15 U.S.C. § 1114)
• Count II – Federal Unfair Competition – Lanham Act (15 U.S.C. § 1125(a))
• Count III – False Designation of Origin – Lanham Act (15 U.S.C. § 1125(a)(1)(B))
• Count IV – Federal Trademark Dilution – Lanham Act (15 U.S.C. § 1125(c))
• Count V – Federal Cybersquatting – ACPA and Lanham Act (15 U.S.C. § 1125(d))
• Count VI – Common Law Trademark Infringement

• Count VII – Common Law Unfair Competition
Plaintiff seeks equitable relief as well as damages, costs and attorneys' fees.
The case was assigned to Judge Robert L. Miller, Jr. and Magistrate Judge Christopher A. Nuechterlein, in the Northern District of Indiana and assigned Case No. 3:15-cv-00451-RLM-CAN.