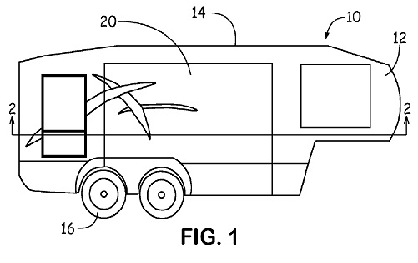 Elkhart, Indiana – Indiana patent attorneys for Lifetime Industries, Inc. and LTI Flexible Products, Inc. of Modesto, California have filed another complaint asserting patent infringement against Lippert Components Manufacturing, Inc. of Elkhart, Indiana. This lawsuit alleges that Defendant infringed Patent Nos. 6,966,590 for a "Two-Part Seal for a Slide-Out Room," 7,614,676 for a "Resilient Seal for Mobile Living Quarters," and 7,614,677 for a "Seal Assembly for Mobile Living Quarters." These patents have been issued by the U.S. Patent and Trademark Office.
Lippert, a subsidiary of Drew Industries, is a supplier serving the recreational vehicle, manufactured housing, trailer, and bus industries. It offers a line of products intended to improve the mobile lifestyle. Although Plaintiffs have a principal place of business in California, both operate a manufacturing facility in Elkhart, Indiana.
Three patents – Patent Nos. 6,966,590 ("the '590 patent"), 7,614,676 ("the '676 patent") and 7,614,677 ("the '677 patent") – are at issue in this intellectual property litigation. Defendant Lippert has been accused of making, offering for sale and/or selling products that infringe upon one or more of these patents. Some of these activities purportedly occurred on two or more recreational vehicles manufactured by facilities in Indiana.
The first accused product is a two-part seal that allegedly infringes one or more claims of the '590 patent. The second and third accused products, both "Slide Armor" seals, purportedly infringe as many as all of the patents-in-suit.
A cease-and-desist letter was sent to Jason Lippert, the CEO of Defendant, in March 2015. Plaintiff contends that, despite this letter and the communications that followed, Defendant's manufacture, offer for sale, and sale of each of the accused products has continued.
In this Indiana complaint, patent lawyers for Plaintiffs assert the following claims:
• Count 1: Direct Infringement of the '590 Patent
• Count 2: Direct Infringement of the '676 Patent
• Count 3: Direct Infringement of the '677 Patent
• Count 4: Induced Infringement of the '590 Patent

• Count 5: Contributory Infringement of the '590 Patent
Plaintiffs ask the court to enter a declaration of direct, induced and contributory infringement as well as a declaration that infringement has been willful. Plaintiffs also ask for injunctive relief; damages, including treble damages; and costs and attorneys' fees.
The case was assigned to Judge Joseph S. Van Bokkelen and Magistrate Judge Christopher A. Nuechterlein, in the Northern District of Indiana and assigned Case No. 3:15-cv-00450-JVB-CAN.