Indianapolis, Indiana – Attorneys for Plaintiffs, CMB Entertainment, LLC ("CMB") a limited liability company formed under the laws of the State of Indiana and Bryan Abrams ("Abrams") of Oklahoma, filed suit in the Southern District of Indiana alleging that Defendants, Mark Calderon ("Calderon") of Ohio and Pyramid Entertainment Group, Inc. ("Pyramid") of New York, New York, transacting business in the State of Indiana,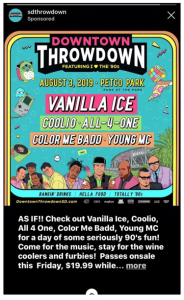 infringed CMB's rights in the federally registered U.S. trademark "COLOR ME BADD" (the "Mark") and Calderon breached his fiduciary duties. Plaintiffs are seeking a preliminary injunction, damages, treble damages, pre-judgment interest, attorneys' fees, and costs.
According to the complaint, CMB has two members, Abrams and Calderon, who were also two of the founding members for "Color Me Badd", (the "Group") a well-known R&B group. Plaintiffs claim Pyramid conducts business in Indiana as a booking agent which books shows and performances for the Group. Abrams claims he kept the Mark alive during the Group's hiatus from 2000 to 2009/2010 by performing as Color Me Badd without the other three founding members.
Abrams and Calderon allegedly reformed the Group to perform at a concert in Hawaii in July 2010. A third member, Kevin Thornton ("Thornton") then allegedly rejoined and the three formed CMB on May 26, 2011 for the business operations of the Group including owning the Group's intellectual property rights. CMB filed to register the Mark on or about July 22, 2011 and was granted the Serial No. 85,378,693. Plaintiffs claim CMB is the sole owner of the Mark and at the time of formation, each member held an equal one-third interest in the company. While an operating agreement for CMB was drafted in October 2013, according to the complaint, it was never executed.
Per the complaint, following multiple years of various members not performing together and then coming back, Thornton sued Abrams, Calderon, and CMB in January 2015. That action settled in May 2016 and resulted in Thornton no longer being a member of CMB. In or around 2015, the Group contracted with Pyramid to be its exclusive booking agent. The Group has been performing and touring internationally from 2015 to the present. Abrams alleges him and/or his wife, Kim Frazier ("Frazier") have operated the Group's website and social media accounts since 2009 to May 2019 with no objection from Calderon.
Plaintiffs claim Calderon has expressed interest in pursuing a solo career and has tried to get permission from Abrams and CMB to utilize the Mark, on several occasions, but his attempts were unsuccessful. CMB and Abrams believe that Calderon intended to release his debut single in May 2019 and to utilize the Mark to boost the release. Plaintiffs further believe Calderon told various agents, promoters, and agents through counsel that Calderon and Abrams have equal rights to exploit the Mark. However, Plaintiffs claim this is incorrect as CMB is the sole owner of the Mark, and sent a cease and desist letter to Calderon informing him as such.
CMB and Abrams assert upon their belief that Calderon has booked several shows to perform by himself, without Abrams, using "Color Me Badd" or a similar billing. In these bookings, it is also believed Calderon authorized third parties to utilize the Mark in connection with the promotion of his unauthorized concerts. According to the complaint, the promotional advertisements for the August 3, 2019 concert depict the image and likeness of Abrams and the venue was unaware Abrams did not know about the show and likely would not be there. Further, CMB claims it has already executed contracts for shows during the same coming months for Abrams and Calderon to perform together, which CMB claims will likely cause confusion for consumers as to the origin of the Mark.
Calderon has allegedly begun new social media pages for his solo career utilizing the Mark. Calderon and/or someone working on his behalf filed a trademark infringement report with Facebook to remove the CMB Facebook Page on May 15, 2019 and the page was removed due to this report. According to the complaint, Calderon filed a similar report with Instagram and had the content of the CMB Instagram Account removed as well.
Plaintiffs claim that Pyramid, who had been the booking agent for the Group from 2015 on, knew or should have known that CMB was the owner of the Mark. Further, although the booking agreement was with both members of CMB, Pyramid allegedly cut ties with Abrams on May 2, 2019. Abrams claims he informed Pyramid of its infringing use of the Mark in connection with Calderon's solo endeavor, however, Pyramid did not cease its activities.
CMB is seeking treble damages for Calderon and Pyramid's infringement and false designation of origin under the Lanham Act. Plaintiffs are further seeking damages against Calderon for unfair competition under the Lanham Act and Indiana state law. Finally, Plaintiffs are seeking damages against Calderon for breaching his fiduciary duties under Indiana state law.
The case was assigned to District Judge Richard L. Young and Magistrate Judge Debra McVicker Lynch in the Southern District and assigned Case 1:19-cv-02703-RLY-DML.