Indianapolis, Indiana – Attorneys for Plaintiff, North Central Industries, Inc. ("North Central") of Muncie, Indiana, filed suit in the Southern District of Indiana alleging that Defendants, Creative Licensing Center Corporation ("Creative") of Los Angeles, California, Winco Fireworks, Inc., and Winco Fireworks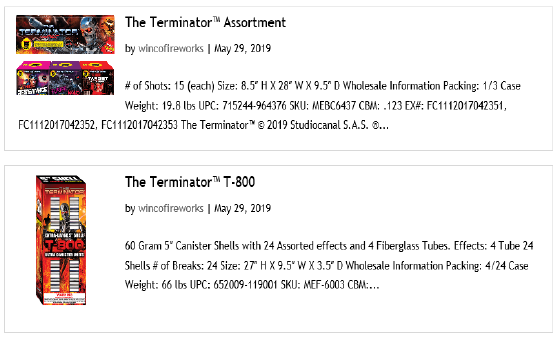 International, LLC (collectively the "Winco Defendants"), both of Prairie Village, Kansas, infringed its rights in United States Trademark Registration No. 2745764 for the mark "Terminator" ("Registered Mark"). North Central is seeking profits, damages, interest, and reasonable attorneys' fees.
North Central claims it has been in the business of importing and selling consumer fireworks in Indiana for over 50 years. The complaint asserts that the Registered Mark has been used in commerce since 2000 and that the registration has become incontestable under the Lanham Act, 15 U.S.C. § 1065. According to the complaint, North Central has used the Registered Mark in connection with essential oils since at least May 1, 1998 and, also in connection with consumer fireworks.
The complaint alleges Studiocanal Image S. A. f/k/a +D. A. ("Studiocanal") filed an opposition to the Registered Mark, but the opposition was withdrawn on January 31, 2003. It was then allegedly dismissed with prejudice on March 31, 2003 by the Trademark Trial and Appeal Board. North Central alleges that the Winco Defendants entered into a licensing agreement with Studiocanal through Studiocanal's agent, Creative, to use the trademark TERMINATOR. According to the complaint, Creative attempted to demand North Central "cease and desist" its use of the TERMINATOR mark, but the request was withdrawn after North Central's counsel advised Creative of the Registered Mark's incontestability status in March 2019. North Central claims it then informed the Winco Defendants of the Registered Mark's status and demanded they cease and desist their infringing behaviors, which the Winco Defendants did not.
The complaint contains four counts for relief, the first of which is for federal trademark infringement pursuant to 15 U.S.C. § 1114. Second, North Central is claiming federal trademark dilution under 15 U.S.C. § 1125(c)(1). Next, pursuant to 15 U.S.C. § 1125(a), North Central is asserting a claim of false designation of origin and unfair competition. Finally, North Central is seeking damages for its claim of common law unfair competition.
The case was assigned to District Judge Richard L. Young and Magistrate Judge Matthew B. Brookman in the Southern District and assigned Case 1:19-cv-02720-RLY-MPB.