Indianapolis, Indiana – Apparently, La Michoacana Meat Market TM Holdings, LLC ("La Michoacana"), the Plaintiff owns a number of federal trademark registrations for use in connection with its Mexican-styled grocery stores, meat markets, fruit shops, restaurants, and bakeries (the "LA MICHOACANA Marks").
According to the Complaint, Defendants, Josue Lopez and Supermercado Jireh LLC, own and operate at least one Mexican-themed grocery store using the name "Super Mercado Jireh Pollo Michoacano. La Michoacana claims that Defendants' use of "MICHOACANO" in connection with food-related goods and services is confusingly similar to the LA MICHOACANA Marks and therefore constitutes infringement of those marks.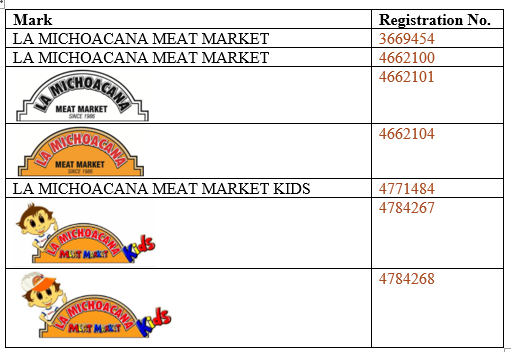 La Michoacana is seeking damages for federal trademark infringement pursuant to 15 U.S.C. § 1117(a). It is further claiming damages for false designation of origin and unfair competition under 15 U.S.C. 1125(a). As La Michoacana claims it has suffered irreparable injury for which it has no adequate remedy at law, it is seeking a permanent injunction pursuant to 15 U.S.C. § 1116(a). Finally, La Michoacana is seeking damages for common law unfair competition and unjust enrichment.
The case was assigned to Judge Tanya Walton Pratt and Magistrate Judge Tim A. Baker in the Southern District and assigned Case 1:21-cv-00563-TWP-TAB.