Indianapolis, Indiana – Apparently Heartland Consumer Products LLC ("Heartland"), the Plaintiff, is the owner of the SPLENDA® brand sugar substitute sweetener, which comes in yellow packaging (the "Yellow Trade Dress"). According to the Complaint, Heartland has also used a variety of legally protected trademarks in connection with its SPLENDA® brand products.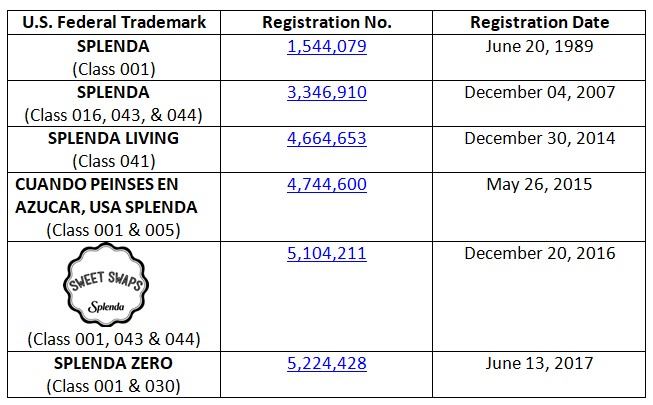 In addition to its U.S. trademarks, and common law rights to the Yellow Trade Dress, Heartland also claims to have obtained trademark registrations for the SPLENDA® intellectual property in over 90 countries.
Heartland claims Speedway, LLC ("Speedway"), the Defendant, has "engaged in the active deception of customers through misappropriation of the Yellow Trade Dress in a manner that makes Speedway's yellow sucralose packets easily mistakable for SPLENDA®'s yellow packets. Per the Complaint, Speedway failed "to provide sufficient cues to the consumer that the yellow sweetener packets in Speedway stores are not the leading brand sucralose-based sweetener sold by Heartland." Therefore, Heartland claims Speedway's actions are likely to deceive consumers into believing its sweetener provided in yellow packets is SPLENDA®.

Due to Speedway's use of yellow packaging for sucralose, Heartland claims it has committed trade dress infringement, trademark dilution, false designation of origin, unfair competition, and false advertising pursuant to the Lanham Act, 15 U.S.C. § 1125. Heartland is seeking enhanced damages and attorneys' fees under 15 U.S.C. § 1117 because it claims "Speedway's actions are intentional, willful, and calculated to cause confusion, mistake or deception." Further, Heartland is claiming common law trade dress infringement under Ind. Code § 24-2-1-15. Next, Heartland is claiming common law unfair competition. Finally, Heartland is claiming trademark dilution under Ind. Code § 24-2-1-13.5.
The case was assigned to Chief Judge Jane E. Magnus – Stinson and Magistrate Judge Tim A. Baker in the Southern District and assigned Case 1:21-cv-00322-JMS-TAB.