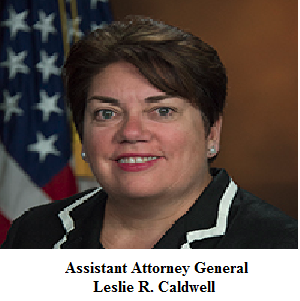 A computer programmer for the Mega copyright piracy conspiracy, Andrus Nomm, 36, of Estonia, pleaded guilty recently in connection with his involvement with Megaupload.com and associated piracy websites. He was sentenced to a year and a day in federal prison for conspiring to commit felony copyright infringement.
Assistant Attorney General Leslie R. Caldwell of the Justice Department's Criminal Division, U.S. Attorney Dana J. Boente of the Eastern District of Virginia and Assistant Director in Charge Andrew G. McCabe of the FBI's Washington Field Office made the announcement. U.S. District Judge Liam O'Grady of the Eastern District of Virginia accepted the guilty plea and imposed the sentence.
"This conviction is a significant step forward in the largest criminal copyright case in U.S. history," said Assistant Attorney General Caldwell. "The Mega conspirators are charged with massive worldwide online piracy of movies, music and other copyrighted U.S. works. We intend to see to it that all those responsible are held accountable for illegally enriching themselves by stealing the creative work of U.S. artists and creators."
"This outcome is the result of years of hard work by our office and our partners from the Criminal Division and the Federal Bureau of Investigation," said U.S. Attorney Dana J. Boente. "The Mega Conspiracy engaged in massive criminal infringement of copyrighted works on the Internet, and we are confident that this case will be a sign to those who would abuse technology for illegal profit."
"Today one conspirator who infringed upon the work of countless artists, actors and musicians takes responsibility for his actions," said Assistant Director in Charge McCabe. "We continue to pursue his co-conspirators until they face justice in the American legal system. This sentence and the remaining charges in this case are the direct result of the hard work of dedicated FBI Special Agents, intelligence analysts and prosecutors who have invested countless hours of effort to bring justice in this case."
Nomm agreed to waive his extradition hearing in the Netherlands, where he was arrested in January 2012, and plead guilty in the United States. In light of his role in the conspiracy and acceptance of responsibility, prosecutors agreed to recommend the sentence of a year and a day in federal prison.
Nomm was initially charged along with six other individuals and two privately-held corporations by a federal grand jury on Jan. 5, 2012, and a superseding indictment with additional charges was subsequently returned on Feb. 16, 2012. The superseding indictment charged the defendants with three separate conspiracies: conspiracy to commit racketeering, conspiracy to commit copyright infringement and conspiracy to commit money laundering. In addition, the defendants are charged with five counts of criminal copyright infringement and five counts of wire fraud. The indictment alleges that, for more than five years, the Mega Conspiracy operated websites that willfully reproduced and distributed infringing copies of copyrighted works, including works that had not been commercially released. The charges and allegations contained in an indictment are merely accusations and the remaining defendants are presumed innocent unless and until proven guilty.
In court papers, Nomm agreed that the harm caused to copyright holders by the Mega Conspiracy's criminal conduct exceeded $400 million. He further acknowledged that the group obtained at least $175 million in proceeds through their conduct. Megaupload.com had claimed that, at one time, it accounted for four percent of total Internet traffic, having more than one billion total visits, 150 million registered users and 50 million daily visitors.
In a statement of facts filed with his plea agreement, Nomm admitted that he was a computer programmer who worked for the Mega Conspiracy from 2007 until his arrest in January 2012. Nomm further admitted that, through his work as a computer programmer, he was aware that copyright-infringing content was stored on the websites, including copyright-protected motion pictures and television programs, some of which contained the "FBI Anti-Piracy" warning. Nomm also admitted that he personally downloaded copyright-infringing files from the Mega websites. Despite his knowledge in this regard, Nomm continued to participate in the Mega Conspiracy.
An extradition hearing for co-defendants Kim Dotcom, Mathias Ortmann, Bram Van der Kolk and Finn Batato is currently scheduled for June 2015 in Auckland, New Zealand. Co-defendants Julius Bencko and Sven Echternach remain at large.
This case is being investigated by the FBI's Headquarters and Washington Field Office. The case is being prosecuted by Senior Counsel Ryan K. Dickey and Brian L. Levine of the Criminal Division's Computer Crime and Intellectual Property Section and Assistant U.S. Attorney Jay V. Prabhu of the Eastern District of Virginia. The Criminal Division's Office of International Affairs also provided significant assistance.