Indianapolis, Indiana – Attorneys for Plaintiff, Vandor Corporation, of Richmond, Indiana filed suit in the Southern District of Indiana alleging that Defendant, Matthews International Corp., of Pittsburgh, Pennsylvania infringed its rights on United States Patent No. 9,649,240 ("the '240 Patent") titled "Lightweight Casket Having Foldable Sides," and United States Patent No. 8,375,535 (the '535 patent),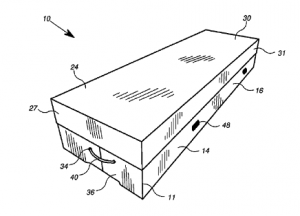 titled "Lightweight Casket Having Foldable Features." Plaintiff is seeking judgment, preliminary and permanent injunctions, damages, prejudgment and post judgment interest, and attorney's fees.
Plaintiff is the owner by assignment of both patents. Both patents describe caskets and cremation containers to be used in cremation and other funeral services. The caskets include sides and edges that fold down. Plaintiff alleges that Defendant sells a product named "Matthews Cremation Fold-Down Rental Insert" that infringes upon claims of both patents.