Chicago, IL – Copyright attorneys for Rude Music Inc. of Palatine, Illinois have filed a lawsuit in the Northern District of Illinois alleging that Republican presidential candidate Newt Gingrich and the American Conservative Union of Washington, D.C. infringed the copyrighted song "Eye of the Tiger," which has been registered with the US Copyright Office.
Rude Music is owned by Frank Sullivan, who is a co-author of "Eye of the Tiger," which was the theme song from the movie Rocky III.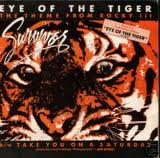 The complaint alleges that Newt Gingrich has been appearing at campaign and fundraising events since 2009 where the copyrighted song was played as he took the stage. Some of these events were fundraising events for the American Conservative Union while other events were part of Gingrich's presidential campaign. The complaint states that Gingrich's use of the song is unlicensed, unauthorized and willful infringement. Interestingly, the complaint alleges that Gingrich's experiences in the House of Representatives as well as being president of Gingrich Productions, a multimedia company, make him knowledgeable about copyright infringement. The complaint seeks an injunction barring Gingrich's use of the song, damages, attorney fees and costs.
Practice Tip: While this type of unauthorized use of a copyrighted song is likely infringement, it is an interesting question whether Gingrich would have the defense of fair use, particularly in the context of political speech and its first amendment protection. Other political campaigns have also faces similar suits. In 2008, John McCain was sued over his use of the song "Running on Empty" by Jackson Brown. McCain filed a motion to dismiss, citing the fair use doctrine. The court denied the motion to dismiss, but the case was settled soon after.

This case has been assigned to Honorable Matthew F. Kennelly in the Northern District of Illinois, and assigned Case No. 1:12-cv-00640.RudeMusic-v-Newt2012Complaint


Further Information about the case is as follows:
Filed: January 30, 2012 as 1:2012cv00640 Updated: February 2, 2012 03:02:55
Plaintiff: Rude Music Inc
Defendants: American Conservative Union, Newt Gingrich and Newt 2012, Inc.
Presiding Judge:Matthew F. Kennelly
Cause Of Action: Copyright Infringement
Court: Seventh Circuit > Illinois > Northern District Court
Type:Intellectual Property > Copyright