Indianapolis, IN – An appeal is now pending of Judge Tanya Walton Pratt of the Southern District of Indiana's grant of a motion to dismiss in a qui tam patent false marking case. Intellectual property attorneys for David O'Neill, Promote Innovation LLC of Clarendon Hills, Illinois had filed a patent infringement lawsuit alleging that Roche Diagnostics of Indianapolis, Indiana, was marking its ACCU-CHEK®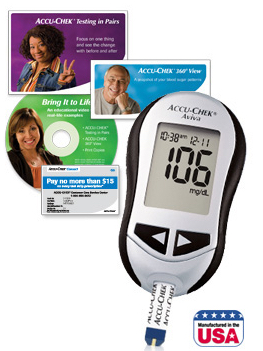 product packages with patents that were expired. The case was filed qui tam. The ACCU-CHEK® product line is diabetes blood glucose monitoring kits. The following expired patents alleged to wrongfully appear on the packaging of various products: 4,891,319 Protection of proteins and the like, 4,924,879 Blood lancet device and 4,999,582 Biosensor electrode excitation circuit, which have been issued by the US Patent Office. This was originally filed in the Northern District of Illinois and was transferred to the Southern District of Indiana in July of 2010. Indiana Intellectual Property Law and News blogged about the case here: O'Neill Sues Roche Diagnostics for False Patent Marking.
In June, Judge Pratt granted Roche's motion to dismiss. Judge Pratt found that the complaint failed to allege patent false marking as a matter of law. The court found that the plaintiff failed to allege intent to deceive, which must be specifically plead and supported by factual allegations. The Court found the allegations of deceptive intent were similar to those in the Federal Circuit Court recent opinion, In re BPLubricants USA Inc., – F.3d -, 2011 WL 873147 (Fed. Cir. March 15, 2011) which had failed as a matter of law in that case. Therefore, the Court dismissed the case with prejudice.
The plaintiffs have filed an appeal. In addition, Roche had requested an award of costs of defending the action. In August, Judge Pratt awarded Roche $10,040.09 in costs. The plaintiffs have filed challenges to this award in the district court, and Magistrate Baker is currently reviewing this award.
Practice Tip: This appeal may present one of the first opportunities for the Federal Circuit Court of Appeals to invoke the patent reform legislation that was passed and signed earlier this year. The new law is expected to result in the immediate dismissal of most patent false marking cases.

This case was assigned to Judge Tanya Walton Pratt and Magistrate Judge Tim A. Baker of the Southern District of Indiana and assigned Case No. 1:10-cv-00964-TWP-TAB. The appeal is now pending in the Federal Circuit Court of Appeals under case number 11-1503Order Entry on Motion-to-dismiss