South Bend, IN – Trademark lawyers for Coach, Inc. of New York, New York filed a trademark and copyright infringement suit in the Northern District of Indianaalleging The Treasure Box, Inc. of Elkhart, Indiana infringed the Coach's registered trademarks and copyrights, including the copyrighted works known as the "Coach Design Elements"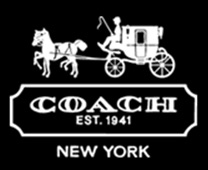 including the SIGNATURE C DESIGNS, Registration No. VAu1-046658, COACH 70th ANNIVERSARY SNAPHEAD PRINT AND Registration No. VA1-010-918, COACH CLOVER DESIGN, which have been registered by the US Copyright Office, and approximately fifty trademarks that have been registered by the US Trademark Office.
The complaint alleges that the Treasure Box has advertised, sold, or offered for sale handbags, wallets, key chains, earrings and sunglasses bearing the Coach marks without authorization from Coach. The complaint states that on October 25, 2011, a Coach representative visited The Treasure Box store in Elkhart, Indiana and purchased a handbag, wallet and key chain bearing the Coach marks.. The representative also saw 25-30 additional items for sale in the store that bore the Coach marks, all of which were counterfeit items. The complaint makes claims of copyright infringement, trademark infringement, trade dress infringement, false designation of origin, false advertising, trademark dilution, unfair competition, forgery and counterfeiting. Coach seeks an injunction, damages of $2,000,000 per counterfeit mark, actual and punitive damages, costs and attorney fees.
Practice Tip: Coach's latest compliant is very similar to several others it has recently filed in Indiana, which Indiana Intellectual Property Law and News has blogged and that are linked below.

Decision: Novelty
https://www.scribd.com/fullscreen/72269943?access_key=key-eubg59yhtu87mfwleq9 (11/9/11)
Original Complaint Coach v Novelty
https://www.scribd.com/fullscreen/46204454?access_key=key-7kfg2wi18e3a52yty3p (05/18/10)
Decision: Tom's Treasure Chest
https://www.scribd.com/fullscreen/67895239?access_key=key-1tc9b082ayxqphqj3c72 (10/8/11)
J&JS Petroleum
https://www.scribd.com/fullscreen/66859352?access_key=key-23y002oi18wovplg2gug (9/29/11)
Coach v. Lyn-Maree
https://www.scribd.com/fullscreen/59937915?access_key=key-2ngpctv9v6xhcta2jwlz (6/16/11)
Coach v. Diva's House of Styles
https://www.scribd.com/fullscreen/59937792?access_key=key-a62d68ypvhedpagjn3m (6/16/11)
Coach v. Angela Mauller
https://www.scribd.com/fullscreen/53344186?access_key=key-uwcstkhnkjfjiegl9do (4/14/11)
Coach v. Chaos of Muncie
https://www.scribd.com/fullscreen/53344355?access_key=key-28zc01gk3uw09b2qvo (4/14/11)
Coach v Accessory Closet
https://www.scribd.com/fullscreen/46260153?access_key=key-1n17r6fli6h9lvf2ur8m (1/4/11)
Coach v Diggz Clothing LLC
https://www.scribd.com/fullscreen/46260003?access_key=key-2cnlitzka2etp2paddvu (12/15/10)
This case has been assigned to Judge Philip P Simon and Magistrate Christopher A Nuechterlein in the Northern District of Indiana, and assigned Case No. 3:2011cv00468.Coach Inc Complaint
Further Information about the case is as follows: Filed: December 9, 2011 as 3:2011cv00468 Updated: December 13, 2011 20:02:14
Plaintiffs: Coach Inc and Coach Services IncDefendant: Treasure Box Inc ThePresiding Judge: Philip P SimonReferring Judge: Christopher A NuechterleinCause Of Action: Trademark Infringement (Lanham Act)Court: Seventh Circuit > Indiana > Northern District CourtType:Intellectual Property > Trademark