Chicago, Ill. – The Seventh Circuit Court of Appeals has affirmed the Northern District of Illinois assignment of a "service agreement" in a bankruptcy case, despite a trademark license owner's claim that the agreement was a trademark sub-license. In 2009, XMH Corp. filed for bankruptcy and requested the bankruptcy court's permission to sell a subsidiary's assets to a purchaser. The assets sold would have included an assignment of an executory contract between the subsidiary and Western Glove Works. The contract allowed XMH's subsidiary to use the trademark and provided a share of the profits for Western Glove. The contract did not provide for assignment and was not explicitly called a trademark license agreement. Western Glove Works objected to the bankruptcy court's assignment of the contract, arguing that the contract was a trademark license contract and therefore could not be assigned without its permission.
The questions before the court were (1) whether a trademark is assignable without the licensor's permission and (2) whether a trademark license can be implied in an agreement that does not explicitly create a trademark license. This appeal was brought on behalf of Western Globe Works,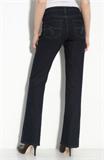 which owns a license to the trademark in question, titled "JAG JEANS" and registered with the US Trademark Office.
The appellate court held that the universal rule is that trademark licenses are not assignable in the absence of a clause expressly authorizing assignment." The court noted that unauthorized assignments of a trademark license may result in diminished quality of the marked products and therefore damage to the brand reputation indicated by the trademark. However, since the parties in this case had not explicitly called their contract a trademark sublicense, the contract in question was not governed by this universal rule, and therefore could be assigned by the bankruptcy court. The judgment of the Northern District of Illinois was therefore affirmed.
Circuit Judge Richard Posner wrote the opinion of the court, which Circuit Judges Bauer and Williams joined. The case was In re XMH Corp., case numbers 10-2596, 10-2597, 10-2598, and 10-2599 in the Seventh Circuit Court of Appeals, an appeal from the Northern District of Illinois, Eastern Division.
Practice Tip: As illustrated in this case, trademark licenses cannot be assigned unless there is a specific provision in the license contract that allows assignment. See Miller v. Glenn Miller Productions, Inc., 454 F.3d 975, 988 (9th Cir. 2006) (per curiam).