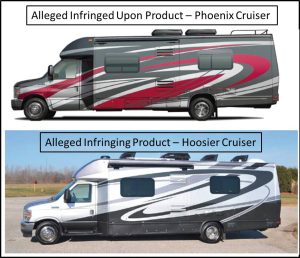 Elkhart, Indiana – Phoenix USA RV, Inc., ("Phoenix USA") founded in 1996 designs, builds, markets, and sells custom motor homes to customers through authorized retailers across the United States.
In 2017, Phoenix USA sold to the current owners Chuck and Tina Cooper.  Many of the employees became unhappy with the direction of the company under new ownership.  They left the company and started Hoosier Custom Cruisers LLC.
According to the complaint, the Defendants, used trade secrets and other information to design and build a directly competing product.
Therefore, Plaintiff is seeking damages for Conversion, Criminal Conversion, Theft, Breach of fiduciary Duty, Unfair Competition & Trade Dress Dilution under the Lanham Act, Trade Dress Infringement and Unfair Competition under Indiana Common Law.  Plaintiff is requesting injunctions, damages, lost profits, disgorgement of all profits derived from Defendant's Infringement, statutory, treble, exemplar and punitive damages along with Attorney's fees and costs.
This lawsuit was removed from Elkhart Superior Court to the Northern District of Indiana.
The case was assigned to Judge Damon R. Leichty and Magistrate Judge Michael G. Gotsch, Sr. in the Northern District of Indiana and assigned Case No.3:22-cv-00855-DRL-MGG.