Indianapolis; IN – The Southern District of Indiana has granted partial summary judgment that dismisses many of Patricia Fuller a/k/a Sister Joseph Therese's claims in a lawsuit over the physical and intellectual property rights to certain images and statues of the Virgin Mary,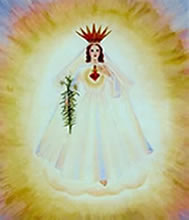 which are titled Our Lady of America. Intellectual property attorneys for Kevin B. McCarthy of Indianapolis, Indiana, Albert H. Langsenkamp, Carmel, Indiana and BVM Foundation, Inc. of Batesville, Indiana had filed a lawsuit in the Southern District of Indiana making several claims against Patricia Ann Fuller, also known as Sister Joseph Therese of Fostoria, Ohio and John Doe of Ohio. Ms. Fuller apparently has counterclaimed claiming trademark and copyright ownership of the copyrighted work OUR LADY OF AMERICA.
The court's partial judgment dismisses Fuller's defamation, RICO and trade dress claims as well as her copyright claims that do not relate to the copyrighted works VAu000297438, VA0000643362 and TXu000366731, which have been registered by the US Copyright Office. The court also stayed the litigation, pending a resolution from the Catholic Church of "the status/ownership of ecclesiastical property and property rights arising while Sister Ephrem was a nun[.]"
This case has convoluted facts and procedural issues. We have previously blogged about the case here.
Practice Tip: It looks like the copyright claims are going to turn on whether Ms. Fuller or the Catholic Church is the owner of the copyrights. The records of the US Copyright Office indicate that "Sister Mildred Mary Neuzil" is the copyright claimant.
This case was assigned to Judge William T. Lawrence of the Southern District of Indiana and assigned Case No. 1:08-cv-994-WTL-DML.