Washington, D.C. – The Supreme Court of the United States agreed to review the judgments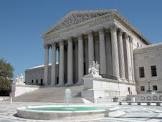 of several Courts of Appeals in four intellectual property disputes. The cases included two patent cases (regarding joint-infringement liability and indefiniteness invalidity), a copyright case (concerning public performances), and a case which may have implications under trademark law (whether a Lanham Act claim is barred by the Food Drug and Cosmetic Act).
Limelight Networks, Inc. v. Akamai Technologies, Inc., Docket No. 12-786, is a patent case involving technology for managing web images and video. Appellate attorneys for Limelight Networks brought the case to the Court after the U.S. Court of Appeals for the Federal Circuit held that, in the case of method patents, multiple parties could be found to jointly infringe on a patent. The Federal Circuit, sitting en banc, held by a 6-5 vote that "all the steps of a claimed method must be performed in order to find induced infringement, but that it is not necessary to prove that all the steps were committed by a single entity."
The question raised for review by the Supreme Court is whether a defendant may be liable for inducing patent infringement under 35 U.S.C. § 271(b) even if none has committed direct infringement under § 271(a). Patent attorneys for technology companies including Google Inc., Cisco Systems, Inc., Oracle Corporation, Red Hat, Inc., and SAP America, Inc. filed a brief in support of Limelight.
Nautilus, Inc. v. Biosig Instruments, Inc., Docket No. 13-369, also involves patent infringement litigation. The patent in dispute relates to heart-rate-monitor technology. At issue is the acceptance of ambiguity within patent claims. The Federal Circuit held that the its use of the claim term "spaced relationship" in describing the positioning of two electrodes with respect to each other was not "insolubly ambiguous" when the intrinsic evidence is considered from the perspective of a person skilled in the art.
The question raised for review is whether the Federal Circuit's acceptance of ambiguous patent claims with multiple reasonable interpretations – so long as the ambiguity is not "insoluble" by a court – defeats the statutory requirement of particular and distinct patent claiming. Amicus briefs have been filed by patent lawyers for multiple organizations, including AARP, Amazon.com, Inc.,  Cisco Systems, Inc., Dell Inc., ESRI, Garmin International, Inc.,  Google Inc., J.C. Penney Corporation, Inc., Limelight Networks, Inc., Netflix, Inc., Newegg Inc.,  Red Hat, Inc., SAP America, Inc., SAS Institute Inc., Verizon Communications Inc., the American Bar Association, the Intellectual Property Law Association of Chicago, Sigram Schindler Beteiligungsgesellschaft mbh, and Yahoo! Inc.
American Broadcasting Companies, Inc. v. Aereo, Inc., Docket No. 13-461, involves copyright litigation over the online streaming of television programs. The Second Circuit affirmed a district court's holding that Aereo's transmission of broadcast TV via the Internet did not constitute a "public performance" and thus did not infringe the right of public performance under copyright law. Aereo contends that, because its mini-antennas are individually leased by the subscribers, all streamed content should be considered a "private performance." American Broadcasting Companies, Inc. ("ABC") contends that the transmission of broadcast programming to the public should be considered to be "public performance" under copyright law.
The question raised for review by the Supreme Court is whether a company "publicly performs" a copyrighted television program when it retransmits a broadcast of that program to thousands of paid subscribers over the Internet. Eight amicus briefs were filed in support of ABC by various media-affiliated entities.
The final intellectual property litigation to recently granted certiorari by the Court is POM Wonderful LLC v. The Coca-Cola Company, Docket No. 12-761. This case was brought by POM Wonderful under the Lanham Act to challenge Coca-Cola's use of the name "Pomegranate Blueberry" for a beverage. POM Wonderful asserted that under the Lanham Act, 15 U.S.C. 1125(a), an action could be brought against Coca-Cola for use of a false or misleading description or representation "in connection with any goods." However, the Ninth Circuit affirmed summary judgment for Coca-Cola on the grounds that the Food Drug and Cosmetic Act comprehensively regulates food and beverage labeling and that, as a result, the Lanham Act claim could not proceed.
The question raised for review is whether a private party may bring a Lanham Act claim challenging a product label regulated under the Food, Drug, and Cosmetic Act.
Practice Tip: The Supreme Court has ultimate, and largely discretionary, appellate jurisdiction. The Court exercises that appellate jurisdiction only for "compelling reasons," such as: resolving a split among the federal circuit courts on an important federal matter; addressing conflicting holdings regarding important federal questions between a federal appellate court and a state's court of law resort or between two state courts of law resort; and where a state court or a federal court of appeals has decided an important question of federal law that has not been, but should be, settled by the Supreme Court, or has decided an important federal question in a way that conflicts with relevant decisions of the Court.