Indianapolis, Indiana  – Stone Basket Innovations, LLC of Austin, Texas, filed a patent infringement lawsuit in the Eastern District of Texas which was transferred to the Southern District of Indiana alleging that Cook Medical, LLC of Bloomington, Indiana, infringed Patent No. 6,551,327 ("'327 Patent"), Endoscopic Stone Extraction Device with Improved Basket, issued by the US Patent Office.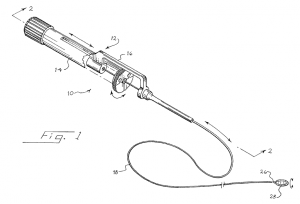 The initial Complaint for this case was filed on April 8, 2015. Defendant served their invalidity contentions in October 2015 and deposed the '327 patent's inventor in January of 2016. During the deposition, the inventor stated in regards to an addition to overcome an examiner's rejection, "I realize there is nothing novel about it." Defendant then petitioned the U.S. Patent and Trademark Office for inter partes review (IPR) of all the claims. The District Court case was stayed pending the outcome of the petition for an IPR based off a joint motion.
After the IPR was instituted in September 2016, Plaintiff offered to license the '327 patent to Defendant for $150,000.00. Negotiations fell through and the settlement did not occur. Plaintiff then filed a motion requesting an adverse judgment in the IPR proceeding in December 2016 and moved to dismiss the District Court case with prejudice, both of which were granted.
Defendant filed its § 285 Motion in March 2017, but the motion was denied as the District Court determined the case was not "exceptional." Defendant appealed the decision, but the decision was affirmed after it was reviewed for abuse of discretion by the United States Court of Appeals for the Federal Circuit (CAFC). The CAFC found that the substantive strength of the Plaintiff's litigation position did not warrant an award of fees even though they were the non-prevailing party. Further, they found the Plaintiff's conduct in other litigation did not rise to the level of "exceptional" to justify an award of fees for filing suits and forcing nuisance settlements.
Practice Tip:  A "court in exceptional cases may award reasonable attorney fees to the prevailing party." 35 U.S.C. § 285. "[A]n 'exceptional' case is simply one that stands out from others with respect to the substantive strength of a party's litigating position (considering both the governing law and the facts of the case) or the unreasonable manner in which the case was litigated." Octane Fitness, LLC v. ICON Health & Fitness, Inc., 134 S. Ct. .1749, 1756 (2014).
This lower court case was assigned to District Judge Larry J. McKinney and Magistrate Judge Tim A. Baker in the Southern District of Indiana, and assigned Case No. 1:16-cv-00858-LJM-TAB. The appeal was before Chief Circuit Judge Sharon Prost, Circuit Judge Evan J. Wallach and Circuit Judge Richard G. Taranto with Judge Wallach writing the Opinion, Court of Appeals for the Federal Circuit Court of Appeals, Case. No. 2017-2330.