Eli Lilly & Company and its subsidiary, Elanco US Inc., both of Greenfield, Indiana, filed suit in the Eastern District of Wisconsin alleging that Arla Foods, Inc. USA of Denmark, and Arla Foods Production LLC a Delaware Corporation used false advertising and unfair business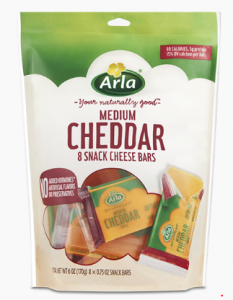 practices in regards to Arla brand cheeses.
In 2017, Arla Foods launched a $30 million advertising campaign focused on expanding its cheese sales in the U.S. These advertisements included ads featuring a seven-year-old girl describing recombinant bovine somatotropin ("rbST"), an artificial growth hormone used to treat cows, as a type of monster. The ads implied that milk from cows that were treated with rbST was unwholesome and unnatural, therefore not good for your family.
Elanco makes the only FDA-approved rbST supplement, marketed under the name Posilac®. After the Arla campaign launched, Elanco filed suit alleging that Arla was in violation of the Lanham Act and simultaneously moved for a preliminary injunction with supporting copies of ads, evidence that a major cheese distributor decreased its purchasing of rbST in response to the ad campaign, and scientific literature pertaining to rbST's safety. The district judge issued the requested injunction and later modified the injunction to cure technical deficiencies.
Arla then appealed to the Seventh Circuit Court of Appeals arguing that because Elanco did not conduct consumer surveys, failed to submit other evidence of actual consumer confusion, and did not submit enough evidence to link the ad campaign and the decrease demand for rbST, the preliminary injunction was improper. Arla also claimed the injunction, even after modified, was vague, overbroad, and lacking adequate factual findings.
The Seventh Circuit affirmed the district court finding that consumer surveys and other hard evidence are not necessary at the preliminary injunction stage. Further, the harm was easily traceable from the advertisement as Elanco is the only FDA-approved rbST provider on the market. Finally, the court found the modified injunction to be adequately supported and sufficiently definite.
Practice Tip: The Lanham Act provides for a national system of trademark registration and protects owners of registered marks against the use of similar marks that are likely to result in customer confusion or trademark dilution.
Plaintiffs asserting a legal claim for deceptive-advertising under the Lanham Act must establish that (1) the defendant made a material false statement of fact in a commercial advertisement; (2) the false statement actually deceived or had the tendency to deceive a substantial segment of its audience; and (3) the plaintiff has been or is likely to be injured as a result of the false statement. See Hot Wax, Inc. v. Turtle Wax, Inc., 191 F.3d 813, 819 (7th Cir. 1999).
This opinion was written by Judge William J. Bauer, Judge Ilana K. Rovner, and Judge Diane S. Sykes in the United States Court of Appeals for the Seventh Circuit and assigned case number 17-2252.