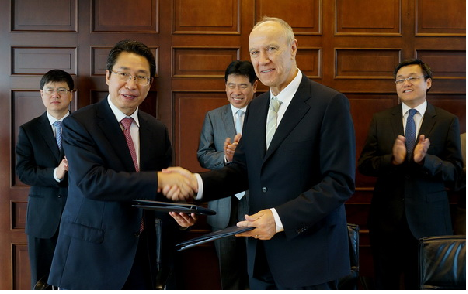 Washington, D.C. – New free, secure service simplifies patent application procedures.
The U.S. Department of Commerce's United States Patent and Trademark Office ("USPTO") and the State Intellectual Property Office of China ("SIPO") recently launched a new free service that will allow the two offices to electronically exchange patent application priority documents directly. This new service will help streamline the patent application process and reduce costs for businesses, which are increasingly pursuing patent rights globally.
The new service will allow the USPTO and the SIPO, with appropriate permissions, to obtain electronic copies of priority documents filed with the other office from its electronic records management system at no cost to the applicant. With this new service, applicants will no longer need to obtain and file paper copies of the priority documents; however, they are still responsible for ensuring that priority documents are provided in a timely manner.
"The USPTO is committed to building a better patent system both at home and abroad," said Deputy Under Secretary of Commerce for Intellectual Property and Deputy Director of the USPTO Michelle K. Lee. "By expediting the processing of patent applications between the USPTO and SIPO, we can provide greater cost savings to applicants and advance our goals toward stronger global intellectual property promotion and protection."
Under the Paris Convention for the Protection of Industrial Property, a treaty that provides a number of important rights for innovators, a patent applicant may file an application in one Paris Convention member country (the priority document), and within 12 months, file corresponding applications in other member countries, while obtaining priority to the first application's filing date. This 12-month period allows applicants to make important decisions about where to file subsequent applications to seek protection for their inventions. In order to perfect the claim of priority to an earlier foreign filing, however, applicants are generally required to file paper copies of the priority document in each of the later-filing offices at their own expense.
The USPTO exchanges priority documents through secure, electronic connections using the Trilateral Document Access (TDA) Web Services at no cost to the applicant. This secure electronic exchange of copies of priority documents promotes sharing of information between the USPTO and the SIPO, and reduces the administrative costs associated with handling paper copies of priority documents and scanning them into the offices' electronic image record management systems. All users will benefit from the simplified process and cost reduction that the new service provides.
Practice Tip: Forms and instructions for using this free service are available on the USPTO's website: www.uspto.gov/patents/process/file/pdx/pdx_index.jsp. For further information, see the Official Gazette Notice: www.uspto.gov/patents/law/notices/2014.jsp.