Guilford, Indiana – Plaintiff Tara Mapes is a well-known photographer specializing in fashion and fine art photography.  She also sells digital backgrounds for photographers through an Etsy store called Enchanted Eye Creations by Tara Mapes. The limitations on the license under which she sells the digital backgrounds on her Etsy store is listed in numerous locations.
Mapes created the picture "Santa with Magic Snow Globe" and applied for a Copyright Registration with the United States Copyright Office.  She was granted registration on December 17, 2018.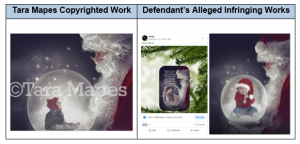 According to the Complaint, Mapes attempted to contact the Defendants, Top Tier Marketing, LLC d/b/a Artfily, Meagan and Dean Broadwater d/b/a Creatiuns prior to filing the Complaint.  Allegedly, the Defendants violated the limitations of the license agreement.
Mapes seeks damages for direct copyright infringement in violation of 17 U.S.C. § 501 et seq. Pursuant to 17 U.S.C. § 504, Mapes may seek an award of statutory damages against the defendants in an amount up to $150,000.00 for each infringement. She may also recover reasonable attorneys' fees and costs pursuant to 17 U.S.C. § 505. Mapes is also seeking a permanent injunction pursuant to 17 U.S.C. § 502.
The case was assigned to District Judge Jane E. Magnus-Stinson and Magistrate Judge Doris L. Pryor in the Southern District of Indiana and assigned Case No. 1:22-cv-00674-JMS-DLP.