Indianapolis, IN – A trademark infringement lawsuit filed in Hamilton County Circuit Court has been removed to the Southern District of Indiana. Trademark lawyers for Wine & Canvas Development, LLC of Indianapolis, Indiana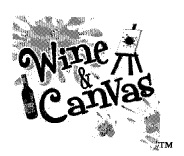 filed a recent trademark infringement suit in Hamilton County, Indiana in alleging Theodore Weisser and Christopher Muylle of Indiana, YN Canvas CA, LLC of Nevada, Art Uncorked and www.ArtUncorked.com, infringed trademarks WINE & CANVAS, COOKIES & CANVAS, PAINTING WITH A COCKTAIL TWIST, LIFE IS TOO SHORT FOR BLANK WALLS, UNLEASE YOUR INNER PICASSO, and CRUISE AND CANVAS that are registered with US Trademark Office. This case was removed to the Southern District of Indiana on December 2, 2011.
The trademarks at issue here, known as the WC Marks, are associated with Wine & Canvas's business model. The complaint states that Weisser was an employee of Wine & Canvass and that Wiesser, on behalf of Wine & Canvas, entered a licensing and franchise negotiation with Muylle. The complaint states that Wiesser and Muylle, however, then entered certain agreements without Wine & Canvas's knowledge and misled Wine & Canvas about the agreements. When Wine & Canvas discovered the issue, it demanded the defendants cease using the WC Marks. However, the defendants continued to sell products and services using the WC marks. The complaint further states that the defendants have threatened to "expose" the Plaintiff "to hatred, contempt, disgrace and/or ridicule or otherwise unlawfully injure" Wine & Canvas. The complaint makes claims of trademark infringement, false designation of origin, trademark dilution, sale of counterfeit items, unfair competition, breach of contract, fraud, and damages under the Indiana crime victims act. The complaint seeks a declaratory judgment, temporary and permanent injunction, damages, costs, attorney fees and for a writ of attachment.
Practice Tip: The complaint appears to largely make state law claims that come out of a failed attempt to create a California franchise of Wine & Canvas. The complaint paints a picture of the defendants essentially stealing the business ideas of Wine & Canvas and opening their own entity, rather than operating the California business as a franchise. While these contract-type disputes are typically appropriately filed in state court, the fact that the plaintiff also makes trademark infringement claims resulted in the case being removed to federal court. Under the supplemental federal jurisdiction doctrine, the district court will be able to hear both the state law and federal law claims since it would clearly have subject matter jurisdiction over the trademark claim.

This case has been assigned to Judge Tanya Walton Pratt and Magistrate Judge Denise K. LaRue in the Southern District of Indiana, and assigned Case No. 1:11-cv-01598-TWP-DKL.Notice Removal From Hamilton County
Further Information about the case is as follows:
Filed: December 2, 2011 as 1:2011cv01598 Updated: December 9, 2011 06:02:53
Plaintiff: WINE & CANVAS DEVELOPMENT LLCDefendants: ART UNCORKED, CHRISTOPHER MUYLLE, THEODORE WEISSER, WWW.ART-UNCORKED.COM and YN CANVAS CA, LLCPresiding Judge:Tanya Walton PrattReferring Judge:Denise K. LaRueCause Of Action: Trademark Infringement (Lanham Act)
Seventh Circuit > Indiana > Southern District Court Type:Intellectual Property > Trademark