Fort Wayne, IN – Trademark lawyers for 80/20, Inc. of Columbia City, Indiana filed a trademark infringement suit in the Northern District of Indianaalleging Parco Inc of Huntertown, Indiana and Phillip Andrew Roser of Fort Wayne, Indiana infringed trademark registration no. 2,699,302 for the mark 80/20 and no. 3,362,571 for the mark AUTO QUOTER registered by the US Trademark Office as well as three unregistered trademarks. 80/20 also alleges Parco has infringed five registered copyrights owned by 80/20.
80/20 is a leading seller of aluminum extrusion products and accessories. The complaint alleges that Parco is a former distributor of 80/20 products, and Mr. Roser is the president and majority shareholder of Parco. 80/20 alleges that Parco and Mr. Roser "created a scheme whereby they would use Parco's status as a distributor to form and launch a direct competitor to 80/20."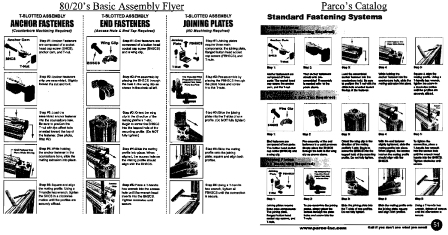 The complaint states that Parco has been using 80/20 trademarks and copyrighted material on its online advertising and in catalogs. 80/20 alleges that Parco registered an internet domain name "parco8020.com" which used the 80/20 mark without authorization. 80/20 sent a cease and desist letter to Parco on June 14, 2011, and Parco then removed allegedly infringing material from its website. 80/20 alleges that Parco subsequently used photos of 80/20 products to create Parco promotional material, including a YouTube video. 80/20's copyright and trademark attorneys have made claims of copyright infringement, federal trademark infringement, Lanham Act violation of "passing off," common law trademark infringement, common law unfair competition, "anti-cyber squatting," Indiana law unfair competition and deceptive trade practices. 80/20 is seeking to hold Mr. Roser individually liable, through theories of personal liability arising under copyright and trademark law and vicarious liability. 80/20 seeks an injunction, accounting of profits, impoundment and destruction of infringing catalogs, actual damages, attorney fees and costs.
Practice Tip: 80/20 has designated one of its claims "passing off" and cites 15 U.S.C. 1125(a). The federal law calls this type of claim a false designation of origin and false description. The law prohibits any use of marks or words that create a likelihood of confusion as to the origin, sponsorship or approval of a product.

This case has been assigned to Chief Judge Philip P. Simonand Magistrate Judge Roger Cosbey in the Northern District of Indiana, and assigned Case No. 1:11-cv-00315-PPS -RBC.Complaint
Filed: September 9, 2011 as 1:2011cv00315 Updated: September 13, 2011 23:05:34
Plaintiff: 80/20 IncDefendants: Parco Incorporated and Phillip Andrew RoserPresiding Judge: Philip P SimonReferring Judge: Roger B CosbeyCause Of Action: Trademark InfringementCourt: Seventh Circuit > Indiana > Northern District CourtType:Intellectual Property > Trademark