Otisco, Indiana – Design Tascono, Inc. the Plaintiff claims to have numerous copyright registrations for its unique statue designs, 5 of which are at issue in this case ("Tascono Works").
According to the Complaint, Design Tascono is the owner of numerous copyrights for various decorative pieces, including wall sculptures. Design Tascono sells these pieces through various means, including its website, catalog, previously through SkyMall magazine, as well as through various authorized on-line retailers and through its network of North American brick-and-mortar distributors and retailers.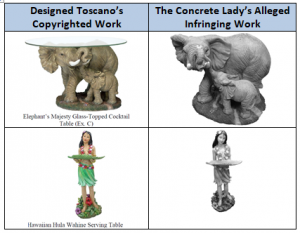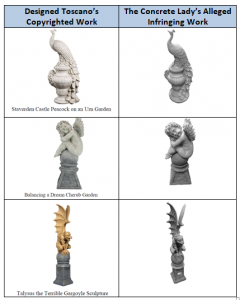 The Concrete Lady, Inc., the Defendant, offers for sale and sells decorative pieces and molds, through a catalog on their website. According to their website they have been in business since 1976 and claim to have the largest variety of statuary in the United States.
The complaint alleges The Concrete Lady has advertised, manufactured, offered for sale and/or sold numerous products and molds that infringe the copyrights of Design Tascono. Furthermore, Design Tascono sent a letter to President of The Concrete Lady, Peggy R. Woods on May 23rd, 2017, wherein afterwards the dispute appeared to be resolved at the time, but has since resumed infringing upon the Tascono Works.
The Plaintiffs are requesting the Defendants be enjoined and restrained from infringing the copyrighted Tascono Works, pursuant to 17 U.S. C. Section 502. Design Tascono is also requesting the Court to order the Plaintiffs to pay damages for copyright infringement pursuant to 17 U.S. C. Section 504(c) and costs, including a reasonable attorney's fee, pursuant to 17 U.S.C. Section 505.
The case was assigned to Chief Judge Tanya Walton Pratt and Magistrate Judge Debra McVicker Lynch in the New Albany Division of the Southern District of Indiana and assigned Case: 4:22-cv-001045-TWP-DML.