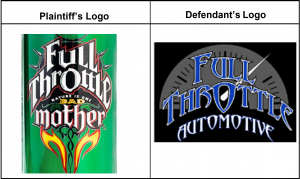 Evansville, Indiana – In 2004, the Coca-Cola Company launched its Full Throttle® energy drink brand, which was later apparently acquired by Monster Beverage Company ("Monster") in 2015. Monster in turn divested the rights and title to the Full Throttle® energy drink line to its child company, Energy Beverages LLC ("Energy"), the Plaintiff. From that transaction, Energy owns multiple trademark registrations including the three at issue in this case, U.S. Registration Nos. 2,957,843, 5,562,250, and 5,722,956 (the "Energy Marks"). Energy also claims it has used a distinctive trade dress on its Full Throttle® products since 2004.
Apparently, Energy has licensed the Energy Marks and trade dress in connection with a variety of goods and services throughout the years, including sponsoring motorsports. Since 2015, Energy claims it has spent over $22.6 million dollars in promoting the Full Throttle® brand. Additionally, the retail sales of Full Throttle® products allegedly exceed 47 million cans per year, with estimated revenues of approximately $113 million per year. Therefore, Energy claims its Full Throttle® brand including the Energy Marks and trade dress have acquired great value to identify and distinguish its products and services from those of other, including association with the automotive industry.
According to the Complaint, Defendant, Full Throttle Automotive LLC ("FTA"), is in the business of automotive repair services. Energy claims FTA promotes and provides its services using trademarks and trade dress that are confusingly similar to the Energy Marks and trade dress. FTA also apparently sponsors race cars using the allegedly infringing marks.
Energy claims that FTA has advertised and promoted its services using the allegedly infringing mark at an event for which Energy's Full Throttle® brand was previously the title sponsor. Therefore, Energy asserts FTA's actions are intended to cause confusion and to cause consumers and potential consumers to believe FTA is associated with the Energy goods and services. Energy claims it sent a cease and desist letter informing FTA of the Energy Marks and trade dress, but FTA has refused to discontinue its use of the allegedly infringing marks.
Energy is claiming FTA's action amount to trademark infringement, trade dress infringement, and false designation of origin under 15 U.S.C. § 1125(a). Next, Energy is seeking damages for trademark infringement in violation of 15 U.S.C. § 1114. Finally, Energy is claiming common law trademark infringement and unfair competition.
The case was assigned to Judge Richard L. Young and Magistrate Judge Matthew P. Brookman in the Southern District of Indiana and assigned Case No. 3:21-cv-00081-RLY-MPB.