Evansville; IN – Patent lawyers for Indian Industries, Inc. of Evansville, Indiana filed a patent infringement lawsuit in the Southern District of Indiana seeking a declaratory judgment that it is not infringing Patent No. 5,795,250 Tethered ball practice device, which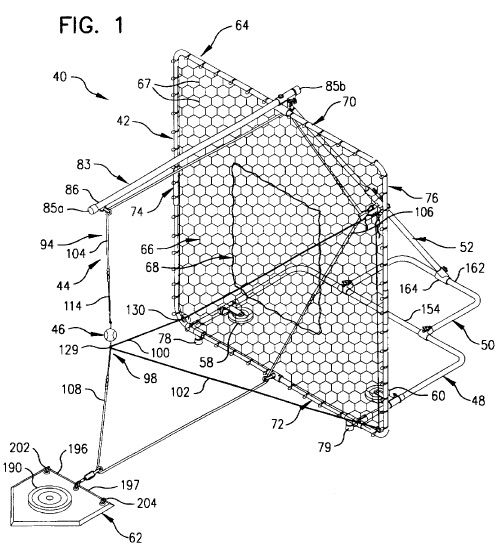 has been issued by the US Patent Office and is assigned to SwingAway Sports Products, Inc. of Lubbock, Texas
The complaint states that the patent lapsed in September, 2010 due to failure to pay the required maintenance fee. Indian Industries, doing business as Escalade Sports, learned of the lapse in November 2010 and began developing a product similar to the patented technology, which culminated in sales and marketing of a product called the Springer Trainer batting trainer. The complaint states Escalade Sports marketed the new product at a trade show on June 18, 2011. The owner of SwingAway observed the new product, approached Escalade employees and alleged that the new product infringed the '250 patent. On that date, SwingAway contacted the US Patent Office and paid the fee for the '250 patent. The complaint alleges that SwingAway partners with Mid-America Sports Advantage in Jasper, Indiana.
Practice Tip: Escalade Sports claims it is entitled to the defense of absolute intervening rights, 35 USC 41(c)(2).  That provision does provided that anyone who begins using, manufacturing or selling a product using the patented technology during the period when the patent has lapsed will generally not be liable for patent infringement. The court, in such cases, may allow the person to continue utilizing the patented technology, even if the patent maintenance fee is then paid.
This case has been assigned to Chief Judge Richard L. Young and Magistrate Judge William G. Hussmann in the Southern District of Indiana, and assigned Case No. 3:11-cv-00078-RLY-WGH.
Further Information about the case is as follows:
Filed: June 20, 2011 as 3:2011cv00078 Updated: July 22, 2011 00:56:13
Plaintiff: INDIAN INDUSTRIES, INC.
Defendant: SWINGAWAY SPORTS PRODUCTS, INC.
Presiding Judge:Richard L. Young
Cause Of Action: Patent Infringement
Court:Seventh CircuitIndianaSouthern District Court