Terre Haute, Indiana – Joe Hand Promotions, Inc. of Feasterville, Pennsylvania has sued in the Southern District of Indiana alleging violations of 47 U.S.C. § 605 and 47 U.S.C. § 553.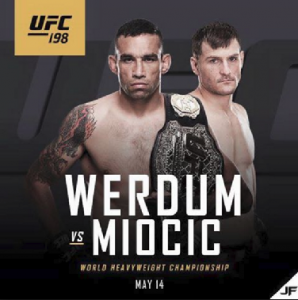 Joe Hand Promotions specializes in distributing and licensing sporting events to commercial locations such as bars and restaurants.  It is the exclusive domestic distributor of the Ultimate Fighting Championship® series of mixed-martial-arts fights.
Defendant in the lawsuit is Joseph Brush d/b/a Break Time Billiards of Terre Haute, Indiana.  Brush has been accused of illegally intercepting and broadcasting Ultimate Fighting Championship® 198: Werdum v. Miocic, which was telecast nationwide on May 14, 2016.
This federal lawsuit, filed by an Indiana intellectual property attorney, alleges "Satellite Piracy/Cable Piracy."  Plaintiff seeks statutory damages of up to $110,000 as well as costs and attorneys' fees.
The case was assigned to District Judge Jane Magnus-Stinson and Magistrate Judge Mark J. Dinsmore in the Southern District and assigned Case 2:17-cv-00025-JMS-MJD.