Indianapolis, Indiana – Attorneys for Plaintiff, FOTOHAUS, LLC ("Fotohaus") of Tallahassee, Florida filed suit in the Southern District of Indiana alleging that Defendant, OFS BRANDS, INC ("OFS") of Huntingburg, Indiana infringed its rights in United States Copyright Registration No. VA 1-832-736 photograph titled "Light Collector" ("Photograph"). Plaintiff is seeking statutory damages, actual damages, Plaintiff's costs, and attorneys' fees.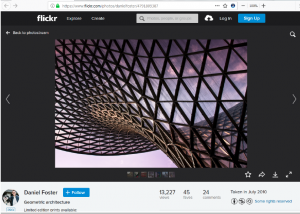 The Photograph in question was first captured by Daniel Foster, Manager of Fotohaus, in Shanghai, China on July 1, 2010. Foster posted the Photograph to his Flickr account on July 13, 2010 and later registered the Photograph with the United States Copyright Office on July 17, 2012. Fotohaus was assigned the copyright to the Photograph on March 8, 2017. On or about June 2, 2016, OFS copied the Photograph and posted it to their commercial website accompanying a post advertising the design of a product they offered. Defendant also posted a copy of the Photograph on their Twitter page on June 6, 2016.
Fotohaus mailed their first letter identifying the infringement of the Photograph to OFS on September 5, 2017 demanding among other things that OFS remove the infringing material. At least ten communications between the Plaintiff and Defendant occurred between October 17, 2017 and February 19, 2018. The offending Twitter post was not removed by OFS until February 19, 2018. Plaintiff claims the Defendant not only violated their exclusive rights of reproduction and distribution, but the act of infringement was willful, intentional, and without regard to the rights of the Plaintiff. For this, Plaintiff is requesting a declaration that Defendant's unauthorized conduct violated Plaintiff's rights under the Federal Copyright Act, maximum allowable statutory damages, and actual damages.
The case was assigned to Judge Tanya Walton Pratt and Magistrate Judge Tim A. Baker in the Southern District and assigned Case 1:18-cv-01989-TWP-TAB.