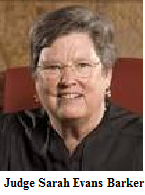 Indianapolis, Indiana – Judge Sarah Evans Barker of the Southern District of Indiana dismissed the patent infringement claims asserted in the amended complaint of pro se Plaintiff Dennis Lee Maxberry against ITT Technical Institute ("ITT"). Also included in Maxberry's amended complaint were claims for copyright infringement, deprivation of disabled veterans' benefits, sabotage of Maxberry's bachelor's degree, stalking, sabotage of Maxberry's employment opportunities, RICO liability against ITT and the State of Wisconsin, malicious prosecution of intellectual property actions against Maxberry, violations of various executive orders relating to Maxberry's service in the military, violations of the Higher Education Act, and violations of a number of Maxberry's constitutional rights.
The parties in this patent infringement litigation are Defendant ITT, an Indiana-based for-profit higher education company, and Maxberry of West Allis, Wisconsin, who had previously been enrolled in an M.B.A. graduate course at ITT. In April 2014, Maxberry, acting as his own patent attorney, sued Defendant ITT alleging multiple harms, which the court summarized as follows:
It appears that Plaintiff accuses Defendant of stealing his federal student loan money, failing to award him grades for the classes that he completed, and applying money from his educational loans towards tuition payments even after he withdrew from school. Plaintiff also accuses Defendant of "being unconscious to the plaintiff by arbitrating the contract," searching his person or property "without a warrant and without probable cause," using excessive force upon him, failing to provide him with "needed medical care," "false credit testimony, mayhem on property, defamation, false imcriminalization [sic], malicious prosecution, conspiracy, and/or any other claim that may be supported by the allegations of this complaint." Plaintiff's Complaint makes reference to 28 U.S.C. § 1983, 1985, and 1986, "Title IX, and Section 504 of the 1973 Rehabilitation Act," the "False claim act," and avers that "[t]he criminal proceeding by the defendants … [is] still pending," but that Plaintiff "was innocent."
The court dismissed Maxberry's initial complaint on two grounds. First, Judge Barker noted that the Plaintiff was asking the Southern District of Indiana, a federal court, to review the rulings of a Wisconsin state court. Such a review, which would in effect place the Indiana federal court in the position of acting as a Wisconsin appellate court, was impermissible under the Rooker-Feldman doctrine. The court further found that the assertions in the complaint were "cast in such an incoherent and confusing manner that they must be dismissed under [Federal Rule of Civil Procedure 8(a)] based on Plaintiff's failure to give Defendant (as well as the Court) fair notice of what they actually are."
The court allowed Maxberry to file an amended complaint, which ITT moved to dismiss. In this complaint, Maxberry again made multiple claims, including five claims involving patent 8,632,592, for an "expandable vertebral body replacement device and method." Maxberry asserted that this patent encompassed a cure for cancer, an automotive window-locking device, as well as a type of computer display equipment.
The court dismissed these "facially implausible" patent infringement claims with prejudice. Judge Barker noted that, not only was it wildly improbable that a single patent covered all of the asserted functions, but the records of the U.S. Patent and Trademark Office showed that the patent-in-suit was not registered to Maxberry.
The court also dismissed Maxberry's other claims but granted him leave to reformulate those claims in a more understandable form and resubmit them.
This case was assigned Case No. 1:13-cv-00409-SEB-DML.